This is the 24nd installment in the Honored Role Series."
Reared around the military, Abby Griffin, a native of Cody, Wyoming, moved to Germany at nine year's old when her mother was assigned as a nurse with the Department of Defense. In elementary school she showed an early interest in following her mom's footsteps that later waned in high school.
At the age of 16, back in the States for the summer, Abby set out on a cross-country cycle from Seattle, Washington to Rehoboth Beach, Delaware; riding 80 miles a day for seven weeks with 47 others. Nearing the completion of their coast-to-coast adventure, the peloton stopped at the United States Naval Academy in Annapolis, MD. Although not familiar with the service academy, Abby became enthralled watching the noon formation of the midshipmen.
Upon returning to Germany for her junior year in high school she began researching colleges and started with Annapolis. Although attracted to the physical and mental challenges, and the opportunity to be part of something important, Abby did not want to spend a time at sea. That led her to another service academy, West Point, where she could keep her feet on the ground.
"I wasn't sure what I wanted to do after college, and I felt that West Point would provide me direction. Sometimes it just takes some extra mileage to get there," Abby said.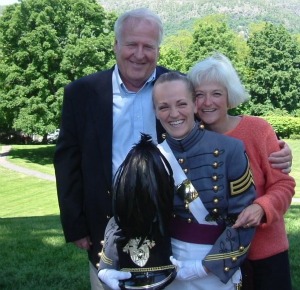 The 2005 West Point graduate and Iraq war veteran recalled an announcement her junior year at the Academy about an information session for cadets interested in nursing. It sparked her earlier childhood interest and though she did not attend; she remembered the announcement.
Stationed in Baumholder, Germany, Abby became the company commander for a headquarters company. She was responsible for deactivating the unit before being transferred to the Forward Support Battalion on the 2nd Brigade Combat Team and deploying to Iraq. Steve, Abby's husband, an armor officer, had deployed earlier to Iraq with the 2nd Brigade Reconnaissance Team.
Used to hearing regularly from Steve, when the calls and emails stopped, Abby knew the silence meant a solider had been killed. The unit imposed a communication blackout until the next of kin had been notified.
"The whole post held is collective breath. It was a relief when Steve finally called. But I knew from the tone of his voice it was someone we knew. Greg Dalessio was shot in the neck leaving a city council meeting and was killed. Greg, a civil affairs officer, was an easy-going Philadelphian. Liked universally in the unit, he was two months shy of leaving the Army, but was involuntarily extended under the stop loss policy." In the same attack, Abby learned Pvt. 1st Class Bryan Thomas was shot and killed.
As one of the few commissioned officers in Baumholder, Capt. Abby Griffin was tasked to be the Casualty Assistance Officer for PFC Thomas. This included inventorying his personal gear and mailing them to his family's stateside casualty assistance officer, settling any financial debts, preparing the notification of death, completing paperwork for his personal effects and preparing his uniform components for burial.
"It was so much harder than I thought it would be, particularly while mourning Greg. Nobody expects to have a stranger go through his or her personal items, clothing, letters and computer hard drive. It's such an intimate thing and I wanted PFC Thomas to have dignity in death." Abby wanted his family to feel the care she had taken when they opened the boxes containing their son's belongings.
With Thomas engaged to be married, Abby wanted to ensure his fiancée's needs were met. "Legally, his fiancée was not his next of kin, but she too was grieving. One of my hardest days in the Army was when she came to pick up some of her belongings that had been in his room. No Field or Technical Manual tells you how to comfort someone whose life has just been ripped apart, and will never be the same again."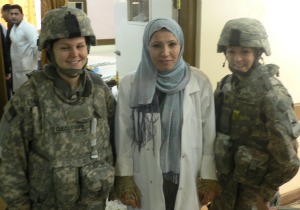 Following her eventual deployment to Iraq, Abby examined where she wanted to take her career. She thought about how much her mom loved being a nurse; caring for and spending time with patients. At West Point and committed to the Army, it had been too late to pursue nursing. With her active duty service obligation coming to an end, she saw an opportunity to take a route she had considered briefly as a child.
"Life is too short to work at something you don't love. I had previously thought about nursing, but never pursued it."
Abby returned to school, as an undergraduate nursing student at Florida State University. "The temporary sacrifice and struggle to start over in a new career far outweigh the years of quiet, soul-killing suffering that come with being in a job that makes you unhappy. Ironically, the military led me back to nursing."
She described her decision to become a nurse instead of a doctor like several of her West Point classmates. "A doctor's focus is identifying the problem and eliminating or minimizing it, in a biological sense. Nursing is more holistic—you spend time with patients and care not only for physical needs, but emotional and social ones as well." Abby noted that many Army nurses advance to leadership positions within the military medical system.
"In labor and delivery where I work now, the nurses are who do most of the hands on care and much of the decision making. Nurses know the patients, and good doctors recognize that they'll be the first to notice small but important changes in a patient's status. Nursing is a sacred trust, particularly in labor and delivery."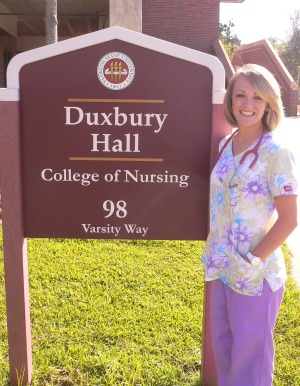 With the military short 7000 combat nurses, Abby says nursing may just lead her back to the military. "Army healthcare professional are literally entrusted with the lives and wellbeing of soldiers on a daily basis, regardless of whether or not a war exists. Healthcare professionals need to be vigilant and ethical. They need to be true people of character, able to advocate for the patient regardless of outside influence. These are all qualities West Point emphasizes."
"Nurses make a difference by what they do and what they don't do," Abby said. "Working with injured soldiers is a special privilege … it's a calling." And a path few West Point graduates have pursued.