Brigadier General (retired) Becky Halstead, USMA 1981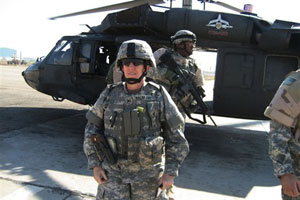 Becky grew up in the one-light town of Willseyville, New York, aspiring to become a high school girls athletic coach guiding a team on a basketball court or soccer field. It was her mother, Becky says, who encouraged her to apply to West Point after reading an article in the local paper that the Military Academy was accepting women. Becky never dreamed she would be accepted. Small in stature, just a shade over 5 feet, she took a giant step becoming West Point's first woman graduate to pin on the star of a general officer. On the battlefield, Brigadier General Halstead commanded more than 25,000 Soldiers and civilians dispersed among 50 locations throughout Iraq and Kuwait. Halstead's position required her to determine how nearly everything — be it bullets, fuel, food, ice, spare parts or boots — the United States Army needed and used in Iraq was transported.
Brigadier General Heidi Brown, USMA 1981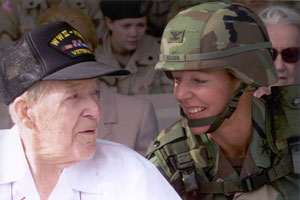 Heidi is a tenacious combat commander who calls El Paso, Texas home.  Brown was the first woman to take the reins of an Air Defense Artillery (ADA) Brigade and is the only woman to have led such a brigade in combat in the opening days of Operation Iraqi Freedom.  Brown never set out to be a pioneer, it just happened that way.  In fact, she looks forward to the day when she can say that being a female combat-arms officer is no longer a novelty.  Brown said, "Someday, gender will be a non-issue in these positions."  As a battlefield commander, Heidi experienced the horrors of war —  destruction and death.  Through her experience, we are reminded that war is ultimately a story of sacrifice and human tragedy.   In July 2008, Heidi was nominated for promotion to the rank of Brigadier General.
Colonel Holly Olson, MD, USMA 1987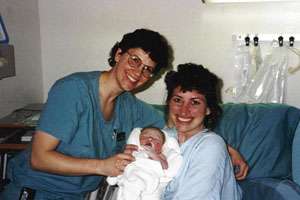 Holly, originally from Brecksville, Ohio is an easy-going medical doctor specializing in Obstetrics and Gynecology.  Upon completion of her first year in medical school, Holly married  Rob Olson, a West Point classmate and fellow Army officer.  They had two children together, Brittany and TJ.  Stationed in Hawaii,  they juggled intense and accelerating Army careers, active children, and married life.  While the notion of duty is not confined to the battlefield, few anticipate the ultimate sacrifice during routine training exercises.  When the call of duty in peacetime is fatal, the shock is extreme.  In 2001, Major Rob Olson and six other soldiers were tragically killed in a helicopter training exercise.  "One does not anticipate becoming a widow at an early age," Holly said.  "There have been major struggles as well as epiphanies related to my individual grief and my children's grief over Rob's death.  Early on, I decided that the grief would not ruin our lives.  It's just a choice and a fairly simple one at that."
Lissa Young, USMA 1986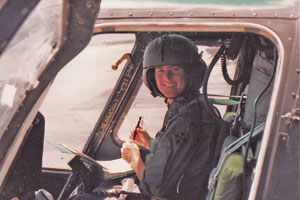 Lissa was sophomore at small private liberal arts college in Sarasota, Florida contemplating a career as a professional water ski instructor, when she decided to begin again as a plebe at West Point.   Lissa majored in comparative literature at a school renowned for its science and engineering curriculum.  She pursued a career as an aviator becoming a helicopter pilot qualified on three different aircraft in an Army dominated by ground forces.  She eventually landed at Fort Wainwright, Alaska as the commander of the "Sugar Bears North," a high altitude search and rescue unit responsible for the tactical war fighting response force in mountain and arctic environments as well as for extracting stranded mountain climbers off of North America's highest peak, Mount McKinley.  After 16 years on active duty, selection for promotion to lieutenant colonel, and permanent assignment as professor directing leadership studies at West Point, Lissa was asked to resign her commission because of the Army's "Don't Ask, Don't Tell" policy.  She said, "My sexuality put me in violation of an Army policy, and I had no recourse for appeal, other than to launch a campaign against the policy, which I refused to do.  I was 40 years old, and half of my life had been spent dedicated to serving this institution.  I did not want to spend the second half of my life attacking it.  I also knew that I did not want the rest of my life to be defined by this single moment."  Instead of fighting back, Lissa chose to embrace her dismissal as an opportunity to begin again.
Major Lillian Pfluke, USMA 1980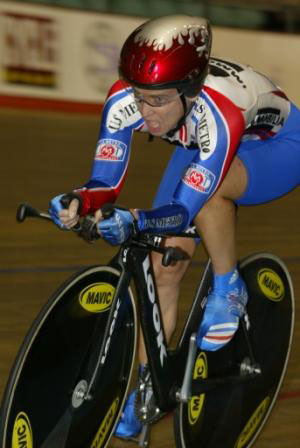 Lil, originally from Palo Alto, California graduated in the first West Point co-ed class.  Lil regularly outperformed most other cadets be it running, doing push-ups, or knocking out pull-ups –19 in one shot.  As a cadet, she found Infantry training gave her the most satisfaction.  She thrived on the intense physical demands, leading others, braving the elements of nature, and carrying everything needed on her back. Unfortunately, the Infantry branch, known as the Queen of Battle, was off limits to women.  Hating being told she could not do something because she was a girl, Lil sought, at the highest levels in the Pentagon, an exemption to the combat-exclusion policy and expressed her desire to be commissioned as an Infantry officer. She was denied, of course, but went into the Army convinced that if she showed her physical, mental, and emotional competence, the barrier against women in combat would collapse.   She said, "After all, for years every single role model I was exposed to in key senior leadership positions wore combat arms brass, airborne wings, and a Ranger tab.  I accepted and bought into the system and the institutional values as presented."  Lil spent 15 years on active duty consistently challenging the Army's combat exclusion rule prohibiting women from serving the infantry, armor and field artillery branches.  Upon her retirement, Lil turned her focus to elite cycling. Competing in the 2002 World Masters Cycling Championships, Lil was on the podium four times in various disciplines earning gold, silver and two bronze medals. Less than 24 hours after returning home and in the best shape of her life, she was diagnosed with breast cancer after a routine mammogram.
Betsy Barron, USMA 1987
Betsy grew up in Glenn Dale, Maryland.  Thoughtful, studious, and nimble with a voracious appetite for literature, she is a veteran intelligence officer of both Operations Desert Shield and Desert Storm.   While on active duty, Betsy met and married a fellow officer whom shared her love of art, music, sport and poetry – a renaissance man.  She was attracted by his charm, sensitivity and serenity. In time, she would become the object of his repulsion, numbness and agitation which intensified after Jacob, their newborn son, was diagnosed with Prader-Willi Syndrome, a complex genetic disorder. Each violent outburst toward Betsy was followed with an act of contrition—an apology, an excuse, and a promise it would not happen again.   Fearing for their safety, Betsy left her husband with her 11 month old son, and little more than the clothes on her back.
Chaplain Cynthia Lindenmeyer, USMA 1990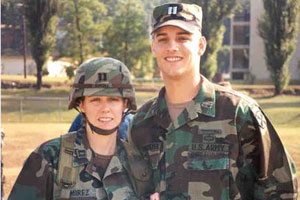 Cynthia had a rough start growing up in Austin, Texas in various foster homes and juvenile detention centers.  Following her arrest for shoplifting and the scolding of the arresting police officer that she would never amount to anything, Cynthia took his words as a challenge to make something of her life. Throughout her years and varied assignments as an Army signal officer, Cynthia felt a calling into ordained ministry.  After three years of ignoring the call, Cynthia resigned her active duty commission to accept one in the Army Reserves.  She became an Army Chaplain and earned a Master of Divinity from Duke University.  Returning to West Point as a chaplain, Cynthia helped cadets struggle and manage competing demands of serving both God and country, and the moral dilemma of faith and fighting.
Captain (retired) Nancy Hogan, Esq., USMA 1995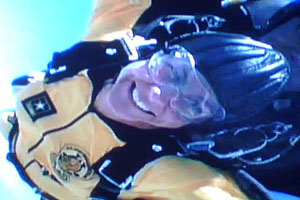 Growing up in Hicksville, New York, Nancy was familiar with West Point as her two older brothers attended the Military Academy.  As a cadet she was known as diet coke-drinking student with an easy-going attitude.  While enjoying one of her favorite hobbies, sky-diving, both Nancy's main parachute and reserve chute deployed during a descent.  The two chutes became tangled in one another and around her neck.  She fell to the ground at an alarming speed and survived. The doctors expected paralysis with unlikely possibility she would walk again on her own. Nancy anticipated otherwise.
Kathy Wheless Gerstein, USMA 1980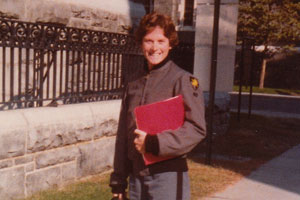 Kathy is from Clearwater, Florida.  The morning of July 7, 1976, dawned grey and humid, with sporadic rain showers that worsened an already dreary day.  The day marked the end of one era and the beginning of a new one.  This was West Point's first class to admit women, 119 women entered that first day. Despite detailed plans for seamless integration, the women faced extreme challenges.  In addition to the physical, intellectual, emotional and spiritual challenges all cadets face, these women were pioneers and were placed in a very public role.  For four years, they were in the sights of the news media. Kathy was one of just 62 women who graduated.  Following graduation, Kathy met and married Dan Gerstein, a West Point classmate.   As they entered their fifth years of service, the Gerstein's decided they wanted to start a family, and one needed to be a full-time parent.  Making the decision to resign her commission was easy; living with it, initially, was not.  Many of the senior officers in Kathy's unit questioned her choice given she had graduated in the first class of women at West Point, the implication being that she was wasting her education and leadership experience.
Jackie Stennett, USMA 1990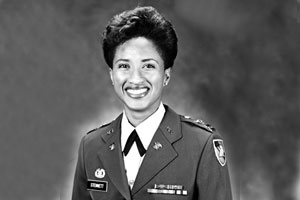 Jackie grew up in South Florida. the daughter of a Jamaican immigrant.  At a very early age, Jackie's mother instilled in her the importance of education.  Jackie was set on attending the best undergraduate college that could prepare her to become an architect– that is until she received a brochure from West Point. Jackie has a fundamental belief about the impact of service, particularly as it relates to the education of children.  "Every child, not just those born into privilege or wealth, should have a role in defining the course of their nation and their world.  Their words should be heard, and through advocates' involvement, we can help to amplify their voices."
Bridget Altenburg, USMA 1995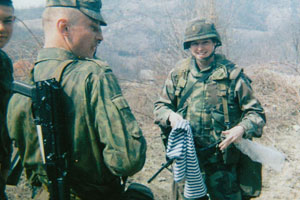 Bridget grew up in a military family stationed at installations around the world.  Her father, a two star general, retired from the Army as its second highest ranking military lawyer.  Initially, Bridget saw the Army as a way to pay for college.  Later she came to realize it was more than a job and more important than one's self.  Upon arriving at her first assignment as an engineer officer, Bridget deployed to Bosnia as part of Operation Joint Endeavor.  Her platoon constructed the largest Bailey bridge erected since World War II.  She also served in Germany, Croatia and Kosovo.  As Bridget neared the completion of her five-year service obligation from West Point, she considered her future in the Army.  While she relished the leadership development and challenges of being an Army officer, she wanted more control over her life.  Most importantly, she sought to reconcile her integrity with the Army's policy against homosexuals and to be open about her own sexuality.
Anita Allen, USMA 2000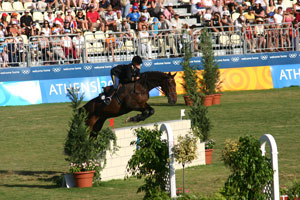 Anita was raised on a 1900 acre farm in Star City, Indiana.  As a high school track star, she hoped to earn an athletic scholarship to college to continue her running career.  She even thought about running in the Olympic Games someday.  West Point recruited Anita as both a student and track athlete.  Post graduation Anita was recruited again. This time it was Army's World Class Athlete Program, a program which provides soldiers the opportunity to train and compete at national and international sports competitions with the ultimate goal of selection to the United States Olympic Team.    A coach familiar with her track record invited Anita to compete in tryouts for the modern pentathlon-– a multi-discipline event which includes shooting, fencing, equestrian, swimming and cross-country running.  In the summer of 2001, with less than 30 days of training, Anita competed in her first modern pentathlon event.  A few days later the world changed drastically.  The terrorist attacks of September 11 occurred sending the US Armed Forces into action to wage and fight a global war on terror.  Anita was confronted with a decision —  to compete in a global athletic competition or serve on the battlefield.  We need soldiers and we need athletes.  When the athlete and the soldier are one and the same, a difficult gut-wrenching decision follows, one that a soldier-athlete will forever live with, and one with which Anita continues to live.
Captain (retired) Dawn Halfaker, USMA 2001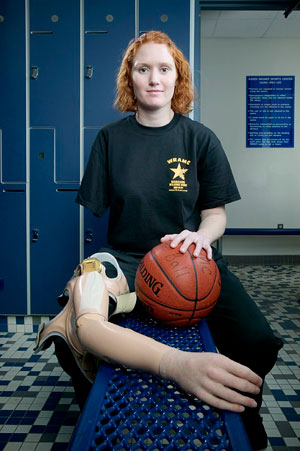 Dawn grew up in Rancho Bernardo, California.  She dreamt of playing basketball for a Division One college and maybe even in the WNBA.   After speaking with one of the basketball coaches, Dawn realized that West Point was not just a college but a future, and she liked the future she saw.  As the leader of a military police platoon deployed to Iraq, Lieutenant Halfaker and her soldiers were assigned to train Iraqi police in the heart of the volatile and ethnically-mixed Baquoba neighborhood of Baghdad.  While leading a reconnaissance patrol on a sweltering moonless night, Lieutenant Halfaker, dressed in full combat gear, sat in the cramped back seat of her humvee.  Along with three soldiers and an Iraqi translator, their faces smeared with brown-black camouflage grease and beading with sweat, the five were hyper-viligant scanning the darkness for suspicious activity.  The stillness of the night was broken by occasional gunfire and the drone of their own engine.  As the driver turned a corner, small arms fired rained down from all directions brightly illuminating their position.  A rocket-propelled grenade pierced through the engine compartment entering the vehicle cabin on a path of blistering destruction.  It severed off the left arm of the soldier in the front seat, torn off Dawn's right shoulder and arm, and than exploded behind her head.  Her future was not here.  It was not the one she envisioned.
First Lieutenant Sarah Gerstein, USMA 2007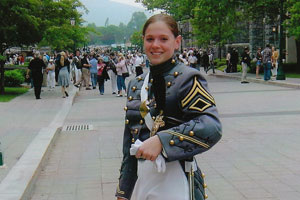 Sarah was raised in a military family living on Army bases in the United States and Germany.  Sarah grew up never imagining not serving in the military, despite the fact that less than one percent of Americans do so.  Both her parents graduated West Point in 1980.  Sarah entered West Point in June 2003, two months after President Bush's infamous "Mission Accomplished" speech.  She was part of the first class to matriculate after the United States invasion of Iraq.  While she understood the profession she was entering and for what she had signed up, Sarah really was not sure whether the United States would still be at war by the time she graduated.   Sarah is a military intelligence platoon leader serving in Iraq.