This is the 18th installment in the Honored Role Series.
Saturday's graduation at West Point will mark 30 years since the first women joined "the long gray line" of graduates of the storied Military Academy. During the commencement exercises, Taneshina Wright will take the oath of a commissioned officer and become a Second Lieutenant in the U.S, Army, a goal seven years in the making.
Of the 119 women who entered on July 1, 1976, 62 graduated four years later in the class of 1980, the first West Point class to include women. The class of 2010 will graduate 135 women of the 181 who entered four years ago. Wright is one of 27 cadets who previously served in the Army.
A star athlete, Taneshina earned four-year letters in basketball and track and field at Las Vegas High School in Nevada. She thought about one day playing in the WNBA, but did little to make that happen. More concerned with having a good time and attending parties with friends, Wright let her participation in social activities become her focal point. Self-described as "shallow, immature and lacking substances," she gained weight, let her grades drop and did not apply to college.
Charting a Course
A high school graduate with no plans and only a part-time job, Taneshina spent many afternoons watching the mind-numbing parade of daytime television talk shows. Listening to inane chatter about topics such as "who cheated on whom," she realized what she was doing, or perhaps "not doing" would never get her off that couch. She recalled, "This is not what I wanted to be doing. My mother Susan worked too hard to get me to this point. I needed to establish my independence and learn to care for my self."
Taneshina found the number for the local Armed Forces recruiting office and called. An hour later, she walked into an Army station and spoke to the recruiter. The sergeant promised her an assignment to a logistics vessel based in Hawaii. "This became my ticket out of Las Vegas and opportunity to develop independence," Wright said. She signed the required forms and enlisted in the Army soon to become a soldier in the transportation corps.
When Susan came home from work that evening, Taneshina told her mom of her decision. "While shocked and worried, my mom supported and respected my decision. That was a great gift."
An overweight and lazy Private Wright found the pressure and scrutiny of basic training fueled her performance, helped her lose weight and regain her level of fitness. She scored the maximum number of points on all her physical fitness evaluations.
Heading towards the coast
Promoted to Private First Class (PFC), Wright received orders to a harbor master detachment in Fort Eustis, Virginia. In 2003 she deployed to Camp Patriot, Kuwait, a location far away and removed from the topical island paradise promised by the recruiter.
Designated to manage a ship control point in the Persian Gulf, she and squad leader, Sergeant Ramirez worked as the Joint Logistics Over the Shore team and spent months living and operating out of a tent on a beach.
Miserable in the extreme heat and the absence of any comfort, Wright briefly questioned her decision to join the Army. Ramirez, 32, a former marine sniper with a high and tight haircut and attitude, and a six-pack of stomach muscles, had no tolerance for whining. She said, "I had a choice to make."
Mind over Body
Wright, a practicing Buddhist, reframed the situation into an opportunity to learn a trade and to get in great physical shape. She worked diligently ensuring the accountability and movement of cargo. She and Ramirez ran and worked out together daily. She developed a reputation as a hard and focused soldier. As body toughened, she meditated, her mind too became stronger, focused, and more resolved to make something of her life. She said, "Pause and self-reflection became way for me to channel my frustration, aggravation and discomfort into positive energy."
Winning the unit physical fitness challenge, PFC Wright received an award from the Command Sergeant Major, the unit's senior ranking enlisted soldier. Impressed with her performance and familiar with her work ethic, he offered her a subsequent posting in Hawaii. Her commander recognized her dedication and promoted Wright to Specialist having spent 22 months as a private first class. She laughed, "The recruiter did say I would end up in Hawaii."
Assigned as a deckhand aboard Logistic Support Vessel 5, Specialist Wright found the job physically brutal–dragging chains, and tying and securing ship cargo. "People expected me to complain. Having experienced the direct benefits of hard work, I again focused on performing my job well."
Four months after arriving in Hawaii, her company commander promoted her to Sergeant. She had been on active duty a mere two and a half years. The battalion commander than selected Sergeant Wright as his driver." Moving to Fort Shafter, Wright set a new course and direction "I wanted to further my education, become an officer and help others push their limits and realize their potential." She said.
Changing Direction
Enrolled in both online and night classes, Wright began working toward a degree with the intent of applying to Officer Candidate School (OCS). In a passing comment between the battalion commander and another officer, Wright heard a mention of West Point.
Curious, she searched "West Point" online. Again she made a call. Major Steve Eisenhower at West Point's Admissions Office answered the phone. She explained that she did not fit the described profile of a cadet candidate, but if he would give her a chance, she would work and prove to be a capable leader. Impressed with her initiative and attitude, Eisenhower encouraged Wright to apply and suggested she consider a year at the West Point Preparatory School in Fort Monmouth, New Jersey.
Admitted to the prep school, Wright seized the opportunity to return to the classroom and strengthen her aptitude in math and science. In June 2006, one year later, Taneshina Wright entered West Point and took the oath as a new cadet.
She said, "I found something I was good at. I drew satisfaction that if I worked hard, success followed."
As a cadet, Wright immersed herself in all West Point offered academically, intellectually and physically.
A Portuguese language major, she spent a semester abroad immersed in a different culture and language. She interned with a Military Police Unit at the maximum-security facility in Guantanamo Bay, Cuba.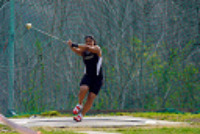 Wright excelled on the athletic field. A hammer thrower, Wright finished her collegiate career ranked number 5 on Army's All-time list of indoor and outdoor throwers.
Within the cadet chain of command, Cadet Wright held several leadership positions at the company and battalion level. Serving first as company first sergeant, than battalion command sergeant major and cadet basic training regimental command sergeant major, and culminating as a regimental executive officer her senior year.
Invited as a cadet delegate at the Inclusive Security Conference in Washington, DC, she worked with three members of the Rwandan Parliament and members of the State Department and Oval Office to strategize and draft recommendations to increase women's participation and engagement in peace-building processes.
Ambassador Swanee Hunt, the Chair of the Institute for Inclusive Security and former ambassador to Austria, and world-renowned journalist Dan Rather, both advocates for women in the peace process, led the conference.
"This life-changing experience has changed the way I will think about conflict and peace-building when I am on the ground as an officer," Wright said.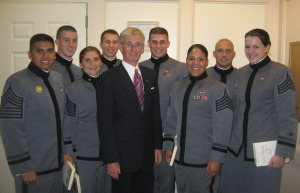 She has talked with Presidents Bush and Obama, General Anne Dunwoody, the Secretary of the Army and the Chief Executive Officers of Boeing and AT&T. " I have truly taken advantage of my opportunities here and expanded my perspectives." Wright said.
Future Course
She described her most significant challenge as "serving as a 26-year old woman in a regimented system, working with younger and less life-experienced cadets." Again, when challenges arise, Wright meditates and focuses on the opportunities for leader development. She said,
"My experiences as an enlisted soldier and deckhand taught me how to work hard and remain humble. I admire leaders who set the example, care about others, and are easy to get along with. The opportunities and education afforded me as a cadet have provided a strong foundation. Perseverance helped me develop my managerial skills, intellectual capability, personal courage and leadership potential. I am prepared to lead and take care of soldiers. I have walked in their shoes."
Sharing her wisdom with young women, Wright said, "Society will have us believe that we are imperfect. It will drown us in a commercialized identity of beauty and material things. Young women need to remember they are infinitely capable. They do not need to fit in. But you do need a direction. Their uniqueness is an independent beauty all its own."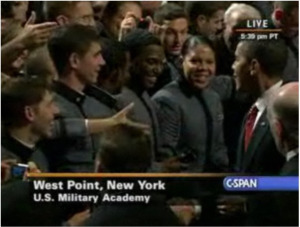 Asked about President Obama's strategy for bringing the on-going war in Afghanistan to a conclusion, she responded, "I received the order from him in person," she said. "He made the decision, and it's my job to go out there and make it happen. My next challenge is to learn quickly how to do my job a military intelligence officer and platoon leader."
Following graduation leave, Lieutenant Wright will attend the Military Intelligence Officer Basic Course in Fort Huachuca, Arizona and than join the First Aviation Brigade based in Fort Hood, Texas. She expects to be in Afghanistan in the next 18 months.
If you would like to share your story or that of other veteran women, please contact me. contact me.