This is the 17th installment in the Honored Role Series.
In Kindergarten Candice O'Brien started running the 1/8th of a mile loop around her elementary school in Muscatine, Iowa. Each time she finished ahead of all the other kids—girls and boys. Although she ran for fun, she did not want anyone to beat her.
From a family of mid-western educators, Candice planned on attending Drake University in her home state and studying journalism. When she learned of West Point, the challenge and scholarship it offered, she applied.
Surprised by her interest in a military academy, Candice's parents said the decision was hers. Her grandmother however did not want her to pursue a career in the armed services. A former WAVE (women accepted for volunteer emergency service) in the US Navy during World War II, she did not want Candice to experience how she had been treated. Candice explained, "My grandmother cried when I decided to enter West Point. Subjected to a constant barrage of insults and pejorative names, women were not accepted nor welcomed in certain parts of the military. During my cadet days there was a vocal minority who did not want women at West Point. This surprised me as it was 1994 not 1944. The support of classmates and friend taught me to ignore them."
She continued, "Today roles have changed. They are different and dynamic. Accepted although not fully assimilated, as women remain barred from certain branches, but are now in leadership roles. We have come far, but with still a long way to go, particularly if you look at the branches from which most of the Army's senior commanders come."
Candice made the cross-country team her plebe year. While running the trails was easy, solving calculus problems in the classroom was not. Not able to keep up with the academic rigor and athletic practice and competition schedule, Candice left the team after the fall season. She said, "I had to determine my priorities and make a tradeoff."
Still with a passion to run, Candice discovered the marathon club. "The longer 26.2 mile distance fit my style more than cross-country." Crossing the finish line of the 100th Boston Marathon in Army black, gold and gray remains memorable. As a cadet, Candice ran six marathons and set a personal record of 3:23 in the 102nd Boston Marathon her senior year.
Commissioned as a second lieutenant upon graduation in 1998, Candice attended the military intelligence officer's basic course at Fort Huachuca, Arizona and served her initial assignment as a platoon leader in the 313th Military Intelligence Battalion in the 82nd Airborne Division at Fort Bragg, North Carolina.
When not working with soldiers and parachuting, Candice ran. Teaming with fellow military intelligence officers, Michelle Schmidt (USMA '92), Debbie James (USMA '92) and Jen Buckner (USMA '90), Candice O'Brien won the female division of Fort Bragg's 50-mile Perimeter Challenge. Buckner said, "These women would rather die than fall out of a run"
Picking up her parachute and running off the Sicily drop zone following a jump, Candice met Will O'Brien, an infantry officer. The two married in 2000.
Following a promotion to First Lieutenant, Candice was assigned as the assistant S-2 Intelligence officer for the 505th Infantry Brigade. While the Army did not exclude women from this role, O'Brien became the first woman in the 82nd to serve in this capacity.
"It was a baptism by fire, " Candice recalled. "There is no room for coddling in the Infantry. I knew I had the mental and physical strength, it was the technical and tactical depth I needed to develop." Candice attributes much of her success to the support of her non-commissioned officers. "I read every field manual possible and spent every waking minute working with and learning from the NCOs on staff and in individual infantry companies."
Despite development and competence, a few who, because of her gender, did not think Lt. O'Brien should be the infantry brigade's intelligence officer. O'Brien dealt with the resistance directly. She said, "The Army adapts to changing circumstances. Others like to say that women in certain roles do not uphold the values of the Army. But the assignment of women and others is a policy decision and not a value. Army values do not change, but policies and situations do."
After completing the military intelligence captain's course in 2001, Candice and Will moved to Schofield Barracks, Hawaii. Candice deployed to Bosnia in 2002 as a part of an analysis and control element of the 25th Infantry (Light) Division and Will commanded a company in the 2-35 Infantry.
In 2003, Captain Candice O'Brien assumed command of Bravo Company, 3rd Brigade Special Troops Battalion. The following year she deployed the company to Afghanistan in support of Operation Enduring Freedom.
Although the combat exclusion policy bans the assignment of servicewomen to units with direct ground combat missions, O'Brien says commanders are pragmatic.
"You cannot say women can no longer be part of the front line because there is no front line. In Afghanistan I was the only signal intelligence company commander and less than 10% of my company was women. All our soldiers conducted missions with and supported infantry units and Special Forces teams. We cannot sustain ground combat operations if we limit the use of soldiers on the battlefield because of gender."
Less than a year after her return from Afghanistan, Will's infantry battalion deployed to Iraq. Will however remained in Hawaii as the rear detachment commander. Responsible for all personnel and equipment remaining at Schofield Barracks, Will had significant family readiness responsibilities and was the point of entry for the family readiness group (FRG) into Army personnel, financial and legal systems.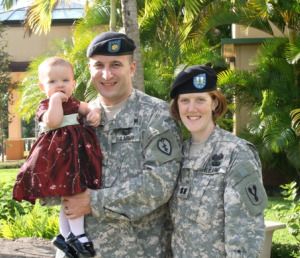 That same year Kate, the O'Brien's first child, was born. Overwhelmed with joy for the birth of his daughter Will also found himself in deep and constant grief. During the 2-35 Infantry's year-long deployment, 22 soldiers were killed and more than 100 sustained severe combat injuries. Will handled all of the interactions with family members, attended all the funerals, helped comfort spouses, and ensured the needs of the wounded warriors were met. When the unit returned to Hawaii in 2007, Will deployed to Iraq to serve as the infantry liaison between the tactical infantry and civilian contractors. Kate had just turned one and Candice, a brigade intelligence officer, was three months pregnant.
When he returned in 2008 Candice did not recognize him. She described, "He seemed perpetually grumpy, over-protective and quick to anger. There was no way we could continue to live like this, raise two children and manage two military careers with frequent deployments. Something had to change."
Will decided to resign from the Army. Diagnosed with Post Traumatic Stress Disorder (PTSD) during his out-processing physical, Will and Candice learned the source of his mood swings and behaviors. She explained, "Living with someone with PTSD is like having to always walk on eggshells. Fortunately, Will's condition was identified early and is being treated."
She continued, "I compare it to diabetes. Will most likely will not be cured but each of us can learn to adapt and make lifestyle changes to minimize the effects."
Will and Candice are both involved in support therapy groups at Fort Leavenworth. More than 2 million American service members have served in multiple theaters in the on-going conflicts. Many are returning home troubled deeply by their experiences. It is estimated that a third of these service members suffer from post-traumatic stress disorder, traumatic brain and mental illness.
"This is a new challenge. We are examples to our children. Admitting you have PTSD is a source of strength and not a weakness. We are not going to avoid dealing with this." Candice said.
Having just completed the Army's School of Advance Military Studies in Operations with a Masters in Military Arts and Sciences, Major Candice O'Brien is headed to Afghanistan to serve as a planner on the International Security Assistance Force (ISAF)-NATO. She deploys on June 20.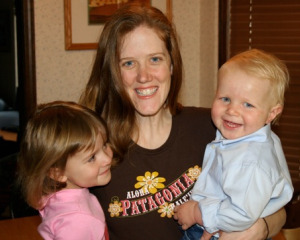 Having both deployed as a soldier and stayed at home as a spouse, Candice says, "It is harder being the one left behind." Will and the children will live with his parents for the year Candice is in Afghanistan. She said, "We are very fortunate that his parents live close to Fort Leavenworth, are able to help with our children, and ensure Will has access to appropriate care and facilities. "
Reflecting on the last few years, Candice came back to the importance of tradeoffs and decisions. She said, "We place a lot of expectations on ourselves that we can do it all: maintain dual military career, raise children, deploy and lead our soldiers. For us, we can only do two out of three well at any one time."
Candice and Will know they are faced with an ultra-marathon. Taking the first steps have taught them that with love, understanding and courage, they can go the distance. After all, running is really about taking one step at a time. And Candice still loves to win.
If you would like to share your story or that of other veteran women, please contact me. contact me.