This is the 22nd installment in the Honored Role Series.
Fed up with the constant media attention and hyper-promotion of tissue-thin fashion models and beauty queens with little between the ears, Valencia de la Vega entered the Ms. Latina Beauty Pageant in October 2009. This former Army Captain and combat veteran turned Intel engineer decided to demonstrate that beauty and brains are not mutually exclusive.
"Too often I noticed when working with young women, they rejected the notion of being smart and doing well in school because they felt it made them unattractive to young men. I want people to understand that as a woman, being an engineer and being smart did not mean that I comprised my femininity. This belief empowers me to share a strong message with young women today – you can be good at math, science and business, and look good doing it. You can be both beautiful and intelligent." Valencia is the reigning Ms. Latina World 2010.
The Inspiration
Growing up in Austin, Texas and inspired by her grandfather's service and stories as a career Army officer, Valencia decided to pursue a military opportunity. "I applied to West Point because I wanted to be an officer and get the best education possible." She said.
A nuclear engineering major, Valencia said her most significant challenge at West Point was academics. She struggled with several of the courses in the field. With additional instruction, countless hours studying, and an attitude and drive toward success, Valencia graduated in 1999. She earned a Bachelors of Science degree in engineering and was commissioned a second lieutenant in the Quartermaster Corps.
Reflecting on her cadet years at West Point, Valencia said, "The academic challenges taught me that with proper focus and discipline, I could learn anything. This is something I take with me wherever I go in my personal and professional life. There is nothing I cannot do."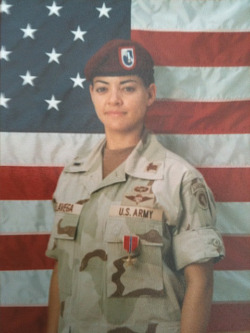 Shortly after Sept 11, 2001, Lt. de la Vega deployed to Afghanistan with the 530th Service and Support Battalion out of Fort Bragg, North Carolina. Her unit was the third group into Afghanistan following the Marine Corps Force Reconnaissance and Army Special Forces units. She said, "The soldiers had been preparing for this type of mission most of their professional careers. Despite the lack of infrastructure we operated as a well-oiled machine. My experiences at West Point, basic training and jumpmaster school prepared me well to handle the unknown."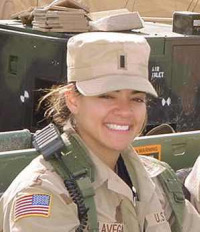 After leaving the Army, de la Vega earned a Masters degree in Business Administration in Finance from the New York Institute of Technology and began a career transition to materiel management and engineering. First working as the Director of Purchasing for Pulte Homes she than joined Intel Corporation. Initially focused on the business side of the semiconductor industry in global accounts and purchasing, de la Vega now works on the technical side as the Tooling Technical Program Manager where she is responsible for Intel's Sort Test Technology Development Organization. In this capacity she and her group help design tools to test Intel products.
de la Vega says that not all models are self-centered or continually starve themselves to look good. She said, "Models can help spread positive messages about being healthy, taking care of ourselves and being fit."
She acknowledged the growing obesity crisis in the United States. "Many women have just let themselves go. Among the long-term effects are increased health care costs, poor nutrition, and inactive children. I want to send strong messages to our young women that health and fitness is good for everyone. Embracing the obese model is nonsense. It is just a convenient way to make ourselves feel better about being overweight, without a reason (sans genetics or illnesses that affect weight). We should reject attempts to normalize obesity."
The Common Thread
"Being a soldier, a beauty queen and a businesswoman share commonality—they all take discipline," de la Vega commented. Be it the discipline of leadership and followership, setting positive examples, adhering to strict schedules, maintaining a healthy diet and challenging one's self intellectually. "If you set your mind to it, you can do it." She said.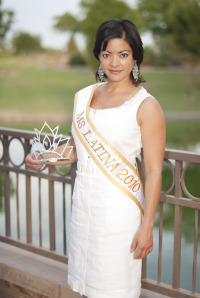 At ease in modeling evening gowns and bikini's de la Vega never found wearing a uniform stifling. "I loved wearing an Army uniform especially my jump boots and my Army greens. Soldiers take pride in the uniform. That is why we wear our medals. As a beauty queen, it's a crown. Today I am proud to wear my Intel badge when I go to work. It is not what you wear, but what you take pride in that counts."
Continued Service
Although no longer wearing an Army uniform, de la Vega says it's West Point's mission statement that grounds her belief system today. She emphasized its final statement, "The mission statement of The United States Military Academy is to educate, train, and inspire the Corps of Cadets so that each graduate is a commissioned leader of character committed to the values of Duty, Honor, Country; professional growth throughout a career as an officer in the United States Army; and a lifetime of selfless service to the Nation."
de la Vega maintains a strong commitment to helping others through multiple volunteer activities and setting a positive example. "I am an ambassador for our military servicemen and women. Many people in my community have no exposure to soldiers or the military and are so far removed from the fact that there is a war going on." As a combat veteran of Operation Enduring Freedom, Valencia works with the Carl T. Hayden Veterans Affairs Medical Center in Phoenix, Arizona.
Elected to the board of the Intel Latino Network, Valencia serves as an external public relations officer committed to engaging the community in Chandler, Arizona where Intel's test division is located. In collaboration with the Maricopa Community College District, the Intel Latino Network hosted a Pre–College and Leadership Conference to prepare students, specifically young women, to go to college and consider Science, Technology, Engineering and Mathematics (STEM) careers. "Too few young women are encouraged to pursue opportunities in science and math," de la Vega said.
Committed to helping Arizona youth achieve their own dreams, Valencia works with Intel colleagues and the East
East Valley Institute of Technology (EVIT) to help them improve their quality marketing through continuous improvement. She said, "This is a fantastic and much-needed school committed to helping Arizona youth succeed! I am fortunate to work with Eric Mantion, who is leading this effort."
Alongside Intel Principal Engineer, Brian McCarson, she volunteers with New Leaf, a non-profit organization committed to addressing homelessness, domestic abuse and to improving behavioral health.
This young engineer demonstrates looks, intellect and a lifetime of selfless service are compatible. You can look good in a bikini, be smart and help others, all at the same time.