This is the 21st installment in the Honored Role Series.
Not one to rest idly, less than six months after retiring from the Army, Colonel Debra Lewis is taking action on another mission. This one, accompanied by Lt. Col. (ret.) Doug Adams, her spouse, is a 16,000-mile yearlong cycling tour of the United States to help educate and inspire Americans on how to truly help service members and military veterans. Set to deploy on October 8, 2010 with Doug cycling, Debra will be driving the couple's 34-foot motor coach, Simba, as the "Duty, Honor, America" tour mission's CEO—Chief Everything Officer.
Debra's military service began with her entrance into West Point in 1976 with the first class of women. Her father, Bennett L. Lewis enlisted in the Army during World War II. After the War, Bennett, entered West Point, graduated and became a commissioned officer in 1950. A veteran of the Korean and Vietnam Wars, Bennett retired after 36 years with three stars as a Lieutenant General.
As a child, Debra's mother Malvene, introduced her to horseback riding and equestrian competition, a passion that continues. In the fall of her senior year in high school, then President Gerald R. Ford signed into law a bill directing that women be admitted to America's service academies. Mark Gillespie '77, a friend of one of her brothers told Debra she could go to West Point and ride horses by joining the equestrian team. Debra said, "I knew it was the best place I could go to be an officer in the Army." Bennett's selfless service and Malvene's strength ensured Debra and her two brothers understood the importance of public service. All three Lewis children served in the military.
Although Debra's parents provided the encouragement and fortitude to try new things, nothing could prepare her for the hostility and scorn she encountered when she entered West Point.
For more than a century and half, West Point's doors were only open to men. As Lance Janda observed in his book, Stronger Than Custom: West Point and the Admission of Women, "for 173 years, the United States Military Academy at West Point was omnes viri—all male—and no one knew what bringing women into the Corps of Cadets would do to morale, discipline or the Spartan environment advocates maintained was so crucial to preparing cadets for battle."
The first women cadets arrived in 1976, and these women of the class of 1980 found themselves in the vanguard of a new generation of leaders in America. Their willingness to enter the fortress of West Point, face the challenges of a military education, and persevere through an almost overwhelming array of difficulties, opened the gates for many to follow.
These pioneering women were immediately labeled "female cadets." While seemingly an appropriate description based solely on gender, it is a label that to this day invokes disdain from those to whom it was applied. As one 1980 graduate remarked, "female cadets were a breed of its own that didn't warrant (in the eyes of many) common courtesy and respect." The label seemed to refute the notion that all cadets were equal in the eyes of the authorities. While many did acknowledge this truth, others set their sights on encouraging the women to quit.
"My choice to attend West Point was the first time I was exposed to harsh and negative words or disrespectful responses from people who did not know me personally–reacting simply because I was a woman in a cadet uniform. Actions by others behind the scenes also worked to create powerful forces disrupting daily activities, but most I now believe were not intentional. Today, I love to ask others 'How many people does it take to derail you or any team you are one–if you let them? One! So don't let them.' "
The negativity helped Lewis develop empathy as a means to handle situations. She understood how others might have felt during integration or wearing a military uniform in public during and after the Vietnam War. "I engage those who I observe acting disrespectfully toward others," she said.
Debra did join the Academy's intercollegiate Equestrian Team and became its first female captain. In her senior year, she earned the honor of 1980 Academy Equestrian of the Year.
Of the 119 women who entered on July 1, 1976, Debra and 61 women graduated four years later. Debra was commissioned a second lieutenant in the US Army Corps of Engineers.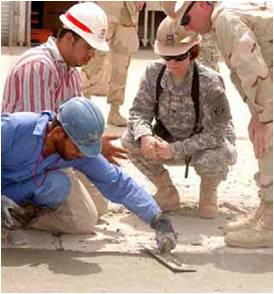 West Point is a place that challenges one completely. It tests every part on you. It prepared Debra well for the profession in which she chose to enter. The Army puts you in difficult situations.
"I think I am a much better person for it and able to handle a much larger range of situations successfully, while helping others do the same," Lewis said. "Cadet Tianyi Xin (Class of 2011) once wrote that 'West Point is a crucible that molds us into leaders of character.' I could not agree more."
Action oriented and at ease with breaking barriers, Debra became the first woman to command US Army Corps of Engineers districts in both Philadelphia and Seattle.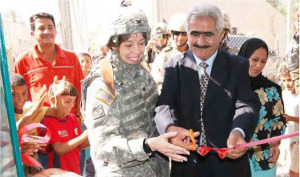 In 2006, Colonel Lewis assumed command of the Central District of Iraq, becoming the first woman to command an engineer brigade in either Iraq or Afghanistan. During her year in command, Lewis was responsible for the larger reconstruction missions within Baghdad and Al Anbar Provinces managing a program of more than $3 billion. Her tour began shortly after the Samarra Mosque bombing and coincided with the height of insurgent attacks and increase in number of US troops know as "the Surge." "Mission Impossible and Extreme Makeover the Home Edition on steroids, come to mind," said Lewis. It was in Iraq that Debra applied all that she had learned. "I actually felt blessed for the many hardships along the way that helped to prepare me."
Debra returned to West Point in May, for her retirement ceremony. "Service to the Nation is a tremendous honor. I am still fit, but the army is truly for younger and stronger people —it take its toll physically."
Service is part of her core. Her mission now is to bring awareness and understanding to America on what individuals can do to help active duty and veteran families. "It is the little things that matter so much. Whether it be mowing a deployed soldiers lawn or welcoming the young child of a newly arrived military family to a school."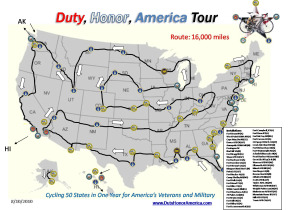 Debra says, "Our words do matter. Our actions matter more. The legacy of our words and actions matter most." Debra is finalizing a website and blog so others may follow their year-long Duty, Honor, America tour.