This is the 20th installment in the Honored Role Series.
Jana Fajardo grew up wanting to serve in the military, despite the fact that less than two percent of Americans do so.
Both her maternal grandparents served in the Armed Forces. Her grandmother enlisted in the British Navy and her grandfather served 27 years in US Army retiring as a Master Sergeant. Jana's father enlisted in the Army and served in Vietnam. Her mother enlisted in the Air Force. Although all had completed their terms prior to her birth, Jana says knowing that history of service influenced her desire to join the military—it was in her blood.
While serving was something she thought she should do, Jana said financial motivation is what made the decision to attend West Point. She explained, "Raised by our mom, my sister and I grew up watching her struggle to make ends meet in low-paying jobs because she never finished college. Although she often worked overtime and stretched her salary, we moved seven times because the rent was too much. As a child, Goodwill and the Salvation Army often provided our clothing—not necessarily my designers of choice but we were thankful. We made games out of finding and killing roaches that hid around our house. The braces put on my teeth in middle school were a luxury–one available only through an extended payment plan. Mom somehow managed to scrape together a little money for us to participate in community sports."
Early Lessons
Jana's says her mother taught her and her sister to look for opportunities and seize them. Attending Kamehameha High School in Hawaii with the benefit of financial aid, Jana played on the softball team, and joined the JROTC and the Ranger Challenge programs. But sports and competitions came with additional expenses. "Most other students' parents paid their activity fees," she said. "I learned that if I wanted to participate I had to figure out a way to contribute. So I organized many team fundraisers… from selling sweet Hawaiian breads… to Christmas wrapping paper. I took orders, organized the distribution and accepted payments. It was all logistics at a basic level."
Another opportunity arose when a West Point cadet came to Kamehameha High School on a recruiting trip. Jana learned that West Point was a "name-brand" college. She said, "It had a reputation known by others and could open doors for me in the future. That it was free was a huge part of my decision as neither my sister or I had any college savings. I viewed the active service requirement after graduation as a guaranteed job. Also alluring were the opportunities to travel—see places I would never see otherwise, earn a bachelors degree, and receive complete medical and health care benefits."
Now with a master's degree in organizational psychology from Columbia University, Jana reflects on her days as a cadet and learning to be a leader. "My first two years I understood my basic needs were being met at the Academy, I would not go hungry or live in poverty—that allowed me to focus on the big picture. I discovered I liked being a leader, working hard and serving something much greater than myself. I cannot think of many things that would fulfill me personally and professionally as well as serving in the military. There are better-paying and more comfortable jobs, but that is not what is important to me."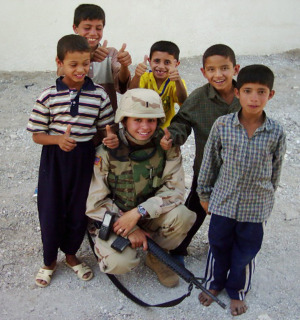 Commissioned as a transportation officer following graduation in 2001, Lt. Jana Fajardo became a platoon leader in the 494th Transportation Company of the 101st Airborne (Air Assault) Division based at Fort Campbell, Kentucky. There she met and eventually married another officer.
Finding a Mentor
One of her company's initial training rotations was to Joint Readiness Training Center at Fort Polk, Louisiana. There she met and worked with Lt. Col. Crissy Gayagas, a battalion commander from the 101st. Gayagas leadership, style and interactions with other soldiers impressed Fajardo. There was a lot she felt she could learn from this officer. She said, "She is a West Pointer from Hawaii and a transportation officer—just like me." Since that training exercise in 2002, Fajardo kept in touch with Gayagas and sought her advice on everything from assignments and units to considerations of starting a family. "I use her insight as sort of an azimuth—not something I have to follow, but a strong guideline on what direction I could go if I chose. "
With two combat tours to Iraq in four years, Fajardo highlighted the difference in preparedness between her first and second deployments.
In March 2003, she deployed to Iraq with the initial wave of soldiers supporting Operation Iraqi Freedom (OIF). Leading a truck platoon, her unit was responsible for moving all classes of supply and soldiers around the battlefield. Their cargo contained everything from beans to bullets and blankets to concertina wire.
"Our unit was not properly equipped. Ammunition was in short supply and we had only 25% of our basic load. We drove around in soft skin Humvees and we did not have armor in our flak vests." She said.
Driving in a supply convoy from Kirkuk to Mosel, one of her drivers was cut off by an Iraqi driver. The soldier swerved to avoid striking the car. The truck rolled and he was killed. After a lengthy investigation of the incident, maintenance records of the vehicle, safety briefings, convoy procedures, and interviews with each soldier in the platoon, it was determined to be accident. Jana recalled, "While my training allowed me to assess the situation, call for a medavac, secure the accident scene, and set up perimeter security, it is the emotional side of losing someone that you are entrusted and responsible for, that is hard to deal with. In all my previous training, we never talked about losing people in combat." Jana says there is now an emphasis on coping with the emotional side of death.
Upon her return to Ft. Campbell, Jana found both she and her husband had trouble re-adjusting to one another. "In hindsight I realize that I put all my focus and energy into my assignment and unit and none into my relationship. Expecting to be successful at both, I was naive in thinking that marriages don't require maintenance. We both returned from Iraq different people. We divorced shortly thereafter." Fortunately, new assignments followed for each.
Assigned to a Logistics Sustainment Brigade at Fort Hood, Texas shortly after completing the Captains career course, Capt. Fajardo sought Col. Gayagas advice. The Army had transitioned to a new brigade logistics structure in which support units were integrated into the maneuver brigades. Gayagas, herself in Iraq, encouraged Jana to pursue an assignment in the maneuver brigade. She did and was reassigned to 1st Brigade, 4th Infantry Division as the company commander for the newly established Distribution Company.
Cpt. Fajardo deployed to Iraq from December 2005 through December 2006. She recalled that operations were better organized, but far more dangerous during the second deployment. "We could not leave the FOB without a full load of ammunition, multiple forms of communication and Blue Force GPS trackers. We performed missions across a spectrum of logistics operations—receiving and managing supply warehouses, transporting supplies and soldiers as well as purifying water. However, we had many soldiers working on other operations. Of the 210 soldiers in my company, 40 were tasked to work in a detention center and 20 were assigned to provide security outside of our FOB. Our fuel handlers were cross-trained to be truck drivers."
Being a Mentor
Now a tactical officer at West Point, Jana has an opportunity by sharing her experiences to mentor cadets, help them develop as leaders, and prepare them for the uncertainty and stress of combat.
She explained, "Cadets are at West Point to learn to be leaders; to develop into officers capable of leading others—potentially into combat. Here is not the time or place to make decisions for them. This is where they need to think independently, make mistakes, and learn from them. This is where second chances are given."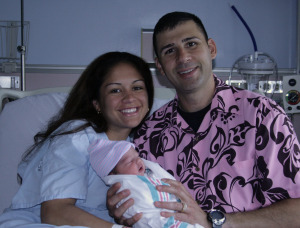 Jana herself believes in second chances. At the Captain's Course, she met Denis, also a logistics officer. They married while deployed to Iraq and both in command within the 1st Brigade. Together they attended graduate school at Columbia and serve as tactical officers. Last month, they welcomed Victoria Kapuaokawailelehekili into their lives. Victoria's middle name means "flower of the thundering waterfall'. A new life and another new start.
As for Jana's mother, she too has a new start. She is a licensed nurse practitioner at Trippler Army Medical Center and is completing her college degree to become a registered nurse.
If you would like to share your story or that of other veteran women, please contact me. contact me.