This is the 16th installment in the Honored Role Series.
More than a word of welcome or parting, "Aloha", in the Hawaiian language means affection, love, peace, compassion and mercy. Often described as the coordination of mind and heart, it also means the extension of warmth in caring with no obligation in return. This would also be a fair description of the islands soul manifested by those from Hawaii. This exceptional attitude is the working philosophy that Christine "Crissy" Gayagas brought east from her island home to West Point, and around the world.
Inspired by their father's confidence and love of country, Crissy and Clarence, her older brother, followed Col (ret.) Ed Gayagas into the Army. Clarence, a 1983 West Point graduate encouraged his sister to consider the Military Academy. Attracted by the small class sizes and the potential to swim competitively in a Division One program Crissy applied.
Recently retired and now living in Hawaii, Crissy reflected on her 24 years of military service. Being a parent and a soldier required finding a balance. She said, "I was able to make this all work because I had an incredible family and support system. Both my parents and my in-laws wanted to and were able to help care for Madison, my daughter."
Standing her ground
Crissy entered West Point in the summer of 1981 fully anticipating the rigor of the academic and physical program. The emotional and leadership challenges made lasting impressions.
In an act of extreme obsession, an upperclassman in Crissy's plebe year company carved her initials into his arm. While Crissy ignored this cadet and his oddly intense infatuation, the company tactical officer did not and planned to move Crissy into another company. Standing her ground, she told the tactical officer, "I am not the victim here nor the cause. This is his problem not mine. I'm not moving. This is my company as well." There are lessons in everything. She reflected, "Later as an commanding officer, this experience helped me take a broader and more balanced view particularly when one has to address personal issues. It's important to look at all sides."
West Point's primary mission is leadership development. "We are exposed to many different styles of leadership—positive and negative, and everything in between." Crissy said.
Positive leadership, Crissy described, motivates others to take action for fulfillment. She recalled a cadet squad leader who displayed the opposite style,
"Years later when our paths crossed in the Army, I told him what I thought of his leadership style and how I diverged from it. Negativity is perpetuated—and propagates."
She continued, "Reflecting on the way we were raised and educated as plebes it influenced how I acted as cadet and an Army commander. People thrive with positive leadership. The outcome tends to be more pleasant. I do recognize however, not all things are enjoyable—and what must be done, must be done even if unpleasant." Do not confuse Crissy's friendliness though and assume a lack of focus on discipline and mission accomplishment.
"I always go back to Schofield's Definition of Discipline we learned as plebes," Crissy says. "Leaders need to set the example and inspire. As Schofield said, 'It is possible to impart instruction and give commands in a manner and tone of voice to inspire in the soldier only an intense desire to obey, while the opposite manner and tone of voice cannot fail to excite strong resentment and a desire to disobey.' "
At graduation in 1984, Crissy earned her commission as a transportation officer. She then served in various command and staff positions stateside and in Germany along with and in some cases apart from Lt. Col. (ret) Doug Tostrud, her spouse.
When Lt. Col. Gayagas took command of the 526th Forward Support Battalion, 2nd Brigade Combat Team, she became the first female battalion commander in the 101st Airborne Division (Air Assault) who was also a mother. Madison was two years old.
Cumulative Effect
Crissy spent many months away from her daughter and called the adverse effects of military deployments on parents and children as "cumulative".
As a dual military couple, Crissy and Doug were able to serve and deploy because of an incredible support system. She explained,
"Both sets of parents were willing to support us. They went through our alert cycles when we did. They were prepared to get on a plane within 18 hours notification and help our nanny with our daughter. We "deployed" them many times for exercises and forecasted deployments, and we only had to exercise true short notice for Hurricane Katrina."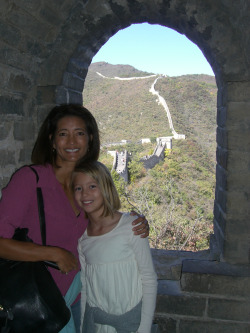 Crissy first deployed to Iraq in Jan 2004. She spent 13 ½ half months in Baghdad with the Coalition Joint Task Force-7 and the Multi National Corps–Iraq. She said, "It was a sacrifice knowing there were significant milestones I missed such as when Madi stopped sucking her thumb and lost her first tooth. Yet, the progress made in Iraq to eliminate terrorist hideouts was my motivation. The long term impact our mission had on our future helped make the separation bearable."
She described one of her missions, "leading two Iraqi Intervention Force Brigade leadership teams on a reconnaissance to more than 20 abandoned Iraqi police stations and combat outposts throughout Mosul. In preparation for upcoming elections, these Baghdad brigades had to move to Mosul to secure the polling sites since the Iraqi Police fled their stations on Nov. 12, 2004 due to terrorist intimidation. The brigades worked to establish their units and logistics, and accomplishing their mission led to the first successful free elections for Iraqis in 2005."
Promoted to Colonel, Crissy moved to Fort Hood, Texas and became the Deputy Commanding General and Chief of Staff of the 13th Sustainment Command (Expeditionary).
A few months after returning to the states from Iraq, Gayagas deployed domestically. The day after Hurricane Katrina devastated the port city of New Orleans, the 13th Sustainment Command deployed to Louisiana.
Drawing from their experience in Iraq, the unit provided a vital and mobile communications network in an environment with little infrastructure. Gayagas led mission planning in support of hurricane relief with the Joint Logistics Command which included elements from the U.S. Air Force, Navy, Marine Corps and Reserve.
Leading By Example
Shortly after returning to Fort Hood from New Orleans, the 13th received deployment orders for Iraq. Gayagas said, "Although I could have requested an exception not to deploy again, it would not have been the right thing to do and would set a bad example. My husband made a tough decision to turn down War College and subsequently a promotion to colonel, and retired before I deployed a second time to Iraq. This made my deployment and separation better knowing that Doug would be home full-time with our daughter. It certainly helped my daughter cope with my being gone again for an extended period."
Based out of LSA Anaconda in Iraq, Col. Gayagas coordinated the work of more than 20,000 soldiers who were responsible for providing logistical support to all US soldiers in the theatre—be it bullets, fuel, food, ice, spare parts or boots. As Gayagas put it, "It was our responsibility to anticipate, plan, coordinate and synchronize the distribution of nearly everything in theatre."
Gayagas described the second deployment challenging and rewarding, and a successful surge was encouraging. "Constant contact with both Madison and Doug helped us stay close and current. However, I was missing seeing much more of my daughter growing up. I did not want to retire in a few more years then realize that Madison was in high school, probably wanting to spend more time with her friends then with her mom, or after "MOM" became a three-letter word. It was the cumulative effect of knowing what I missed previously and selfishly did not want to miss any more."
It came down to the balance of her daughter's growth and the support of a noble mission. "My deployments brought Madison and I closer together. They taught us to communicate better and we both appreciate our time together!" she explained but a point had been reached. She had repeatedly answered her country's call and done her duty. Now was the time for devotion to family.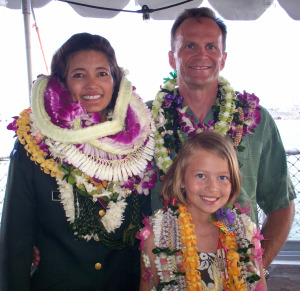 Col. Gayagas decided to retire from the Army upon returning from Iraq. Although she loved the challenge and the pace, she wanted more time with her family. "The one thing the Army could never give me is time. Having missed so many important moments, I did not want to miss any more. I want to pick her up from school, go to cheerleading practices, and be a homeroom mom."
Each person has to assess his or her own situation. Motherhood poses a formidable challenge in the Army. Crissy says,
"Ultimately, parenting while serving in the military is a decision that each person should make individually."
It can be done, but requires thought, planning and an excellent support system to make it work best.
Crissy still exudes that essence of the islands as a homeroom mom and West Point Admissions Coordinator. "You can have a successful and satisfying career with a family, but in every life there will always be sacrifices along the way." It is the spirit in how you deal with the challenges and what you give to others that counts largely in the delicate handling of the matters of mind and heart. And in these you must find harmony.
If you would like to share your story or that of other veteran women, please contact me. contact me.