This is the 14th installment in the Honored Role Series.
Her military background is different from many colleagues, but Hannah Clifford says working with start-up companies is similar to that of being an Army officer. "At West Point and in Army, I was trained to act in the absence of guidance, communicate simply, lead by example, treat my soldiers with respect and trust their expertise and decision-making, and build a team."
Many of leadership qualities that made her successful as an Army signal platoon leader on the DMZ in Korea are the same ones Hannah draws upon to thrive in the fast-paced and technology-driven field of venture capital. Hannah said,
"Leaders in emerging companies, creating new products and services, succeed by rolling up their sleeves and building trusting relationships that lead to achieving business goals."
Recruited from Honolulu, Hawaii to West Point, NY to play tennis at the Military Academy, Hannah decided during her visit that the culture, people and educational opportunity were unparalleled. Hannah reflected, "West Point is a four-year crucible. To succeed everyone needed to quickly learn time management, organizational and communication skills, develop an attention to detail and learn to work on a team. These are all traits I continue to use in my business career."
With a developing interest in technology, Hannah selected the Signal Corps as her military specialty upon graduating from West Point in 1995. Serving as platoon leader in Korea and later as company executive officer in Hawaii, she reflected on some of the parallels between leadership in Army and in early stage companies.
"As a platoon leader on the DMZ, I had millions of dollars with of communication and satellite equipment and 30 soldiers. I was given a set of objectives and little guidance. It was my responsibility to figure out how to accomplish our objectives and support my platoon. Successful officers are able to define challenging and often ambiguous missions, communicate a direction, and inspire their soldiers to accomplish the mission. It is similar to working in a start–up company. New companies, some with great ideas, do not have clearly defined ways to bring products to market to solve customer problems."
Wanting to be in a place where she could expand her interest in emerging technologies, Hannah left the Army to pursue a career in the private sector. She joined Cisco Systems, the leader in the computer networking industry. As a program manger Hannah led new product introduction and manufacturing for the company's first government focused network security products.
With Cisco as her launching pad she moved to a Silicon Valley start-up company. Leading new product introduction and manufacturing for Andiamo Systems, a storage networking company, Hannah assisted in establishing alliances in the storage space with EMC, IBM, HP, Hitachi and NetApp. Three years later Hannah found herself back at Cisco when Andiamo was acquired by the networking giant in 2003 for $2.5 billion. Launching an international team to establish distribution channels for Cisco Storage products in the US, Europe and Asia, Hannah grew the business by more than $40 M. "It comes down to building relationships and providing those with whom you work the resources to achieve business goals."
While stereotypes persist about military leaders being to accustomed to strict organizational hierarchies and discipline, Hannah said it is important to play upon strengths developed in the Army. "Most start-up companies trying to launch a product or service struggle with a lack of strong leadership and effective management. This is the foundation of our experience at West Point. As they are often small and strapped for cash, they look for people with good engineering skills, an ability to manage time and multi-task and who are energetic and willing to work nearly around the clock."
Drawn by the opportunity to work with multiple companies at the same time, the diversity of looking at new technologies and working with energetic entrepreneurs, Hannah moved to the funding side of new businesses. Breaking into the venture capital industry proved challenging. Hannah explained, "You compete for positions with people who have been to business school and have significant experience in the field right out of college. Although the military gives you a significant foundation of skills, I still lacked the experience of my peers who did not serve. In order to not lose more time gaining experience, I went back to business school while I worked full time."
While pursuing an MBA at Duke University, Hannah returned to Cisco Systems. Working from Research Triangle Park, North Carolina, she launched Cisco's first defense and aerospace manufacturing group focused on meeting the government's strict manufacturing & quality regulations. In between classes and group projects, she managed a $10 M prototype budget.
With Jim, her future husband, an Army officer stationed a Fort Bragg and her MBA completed, Hannah joined Intersouth Partners an early-stage venture capital firm that focus its investments in technology and life science companies across the Southeast.
Working with portfolio companies in the wireless, e-commence and new media industries, Hannah reviewed business plans, researched emerging market opportunities, and conducted diligence on new deals in the Mid-Atlantic Region.
Now an associate at Paladin Capital Group, a venture capital firm based in Reston, Virginia focused on technology companies that have dual-use for both government and enterprise customers, Hannah focuses on sourcing, analyzing and monitoring investment opportunities.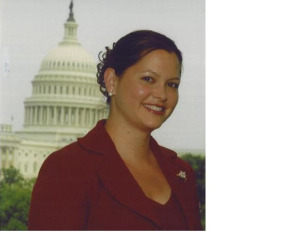 She stated, "We fund companies that are creating exceptional products for the government including cutting edge cyber security products and personalized medicine diagnostics. While we fund companies throughout their life-cycle, our initial investments are normally between $3-$5 million."
Sharing her passion, Hannah regularly speaks with those interested in venture capital. "There is no single road to becoming a VC. One has to understand the industry and the math. Understanding how VC's make money and having hands-on start-up experience are assets. Most have been involved in the business of creating, building and growing companies. Many were entrepreneurs and other have years of operating experience."
Hannah and Jim recently became involved in another type of start-up and welcomed the birth of son Jimmy. She admits life as a mother and a venture capitalist is a balancing act. Her decision to delay starting a family until she established in strong reputation in the industry makes the timing of this start-up a little easier. It is a new team and she loves the energy of both.
If you would like to share your story or that of another veteran women, please contact me.