This is the 13th installment in the Honored Role Series.
Although Raven Bukowski's late grandfather, Donald, never spoke about his experiences as a sergeant in the 3rd Infantry Division during World War II, his quiet patriotism and strength planted in her the seed to become a soldier. Raven knew only that her grandfather fought in Salerno, Italy and returned home with a Purple Heart.
In Akron, Ohio during freshman year in high school, the West Point Cadet Catholic Choir performed at Raven's church. Many parishioners, including the Bukowski's, hosted cadets in their homes. Raven's family sponsored two plebes. "I was on cloud nine all weekend! Our cadet guests were charming, intelligent, and impressively handsome in uniform." Raven laughed.
Seeing the choir assembled on the church alter in their full dress uniforms watered the seed planted by Donald Bukowski. "The gleaming brass buttons and sharp contrast of red sashes against snow white pants, took my breath away." She recalled. Although she did not understanding the significance of many of the songs, The Corps, a companion piece to the school's alma mater moved her to tears. At that moment, she decided to attend West Point and join the Catholic Choir.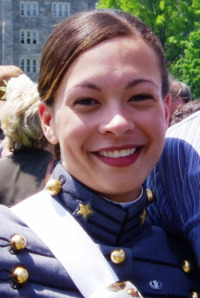 During her four years at West Point, Raven sang in both the Cadet Catholic Choir and renowned Glee Club, competed on the cross-country team and rallied other cadets at various athletic events as an Army cheerleader. A double major in International Relations and Systems Engineering who graduated in the top 10% of the class, Raven says that West Point taught her how to learn and to adapt. "It is all about understanding the problem or situation, gathering information often incomplete, critically analyzing it, predicting various outcomes, testing courses of actions and making decisions."
The world changed dramatically in those four years. The devastating attacks of Sept. 11, 2001, occurred her junior year. The United States has been engaged in combating global terrorism ever since. Subsquently, America entered combat on multiple fronts, most notably Afghanistan, Iraq and the Philippines.
The attacks served to strengthen her desire to serve the country. Since graduating West Point in 2003 as a Military Intelligence Officer, Captain Raven Bukowski has spent more than three of the last five years in Iraq leading soldiers and providing maneuver commanders battlefield intelligence.
Her first deployment as a platoon leader during Operation Iraqi Freedom (OIF), Bukowski led a 22- person unit operating and maintaining multiple tactical Unmanned Aerial Systems (UAVs). Bukowski commented, "Given the new technology, few at the brigade level understood or knew how to employ the UAVs. The uniqueness is the Army deployed this new technology and our platoon directly from the schoolhouse to the battlefield."
UAVs provide intelligence, surveillance and reconnaissance to commanders and aerial security of pipelines for the Iraqis. The employment of UAVs prevented several attacks on base camps and convoys.
Raven explained,
"As lieutenant my job was to figure how to employ the UAVs and ensure the brigade I supported got the benefit of these new assets. It is a direct application of everything I learned as a cadet. I have to know and understand my soldiers, and I need to understand the role of Military Intelligence."
In 2006, the Army initiated a modernization plan to migrate from a Cold War division-structured fighting force designed to engage in combat on one or two fronts, to a modular, brigade-centric force that is flexible and agile, and deployed continuously in multiple fronts operating across a full spectrum of conflict.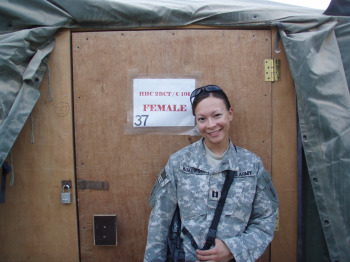 As part of its transformation and "troop surge" in 2007, the Army deployed the 504th Military Intelligence Battlefield Surveillance Brigade (BfSB), the first of nine such units, to Iraq to conduct intelligence, surveillance and reconnaissance operations. As the commander of Bravo Company, 303rd Military Intelligence Battalion, a unit within 504th BfSB, Bukowski was part of this new modular unit.
Bukowski's company includes nearly 100 soldiers who specialize in human intelligence collection and exploitation, and counterintelligence.
Based at the same FOB (Forward Operating Base) as during her second deployment, Bukowski's soldiers were dispersed throughout central and southern Iraq supporting elements of 2nd Brigade Combat Team of the 1st Infantry Division.
Raven feels fortunate to have deployed to the same theatre three times in five years as it afforded her the opportunity to learn different aspects of the Army, the Military Intelligence specialty, and to witness the situation in Iraq change during the course of the war. Raven explains,
"I want to be great at my job. As an officer I need to understand the entire Army, and how and what maneuver commanders need to function. As transformation continues to a modular, plug and play, war-fighting force, understanding what other branches and specialties bring to the fight enables me to enhance their capabilities with various intelligence forms—human, signal and counterintelligence."
As the transformation continues, Bukowski says it imperative leaders address the inconsistencies in the role the current BfSB provide with the future capability to fill intelligence collection gaps of the tactical commanders that the new doctrine promotes and requires.
In a paper published in Military Intelligence Professional Bulletin, a scholarly professional journal, Capt. Raven Bukowski addressed the gap. She wrote:
"Army Intelligence transformation begins with changing the behavior and the expectations of both the MI leaders who produce intelligence and the combat arms consumers of intelligence. Achieving success at this critical junction calls for MI leaders to seek out and digest doctrine, understand its intent as applied to the modular force, yet have the ability to apply it to current operations. This means moving from the current requirements orientation to an anticipatory approach to intelligence production. Instead of waiting for the question to be asked, intelligence producers must anticipate the next requirement and provide assessments and answers to relevant operational questions before thy are asked. In the absence of intermediate doctrine that incorporates recent structural modifications with current mission requirements, MI leaders must heed lessons learned while anticipating new challenges brought about by an ever-adapting enemy. Now is the time to eschew the bad habits of recently deployed MI brigades, exorcise the ghosts of legacy doctrine that haunt our planning and training, and gain a clear understand of the direction in which MI Is moving while realizing there are still a few years between now and 2032, when Army transformation is completed."
Raven herself is also transforming. Later this year, she will start graduate school to prepare to become an instructor in the Department of Social Sciences at the Military Academy. She is eager to return to West Point to both learn from the cadets and officers as well as share her battlefield experiences with the next generation of Army leaders. No doubt Capt. Raven Bukowski is planting and nurturing seeds in others.
If you would like to share your story or that of another veteran women, please contact me.