This is the sixth installment in the weekly Honored Role Series.
Pondering science, space, and astronomy inspires US Army Major Mindy Kimball, because she has long dreamed of becoming an astronaut. Many astronauts begin their space quests in the military, which is where Mindy hopes her quest is beginning as well.
Mindy grew up in a military family, attending Vanden High School at Travis Air Force Base in California. As the daughter of a retired Air Force officer and granddaughter of a retired Army Air Corps officer, Mindy understood and embraced the military and its associated discipline. Serving in the Armed Forces were initial steps in her trajectory into space travel and exploration.
Mindy set her initial sights on attending the United States Air Force Academy in Colorado Springs, Colorado. Her guidance counselor suggested she also apply to West Point. This was the first she learned of a military college for Army officers. She laughed, "In California, if you say West Point, many people ask you if it is located somewhere in California. You explain, 'West Point is like the Air Force Academy for the Army.' "
Aiming high
Although Mindy was not accepted to Air Force, she did receive an appointment to West Point. Visiting the storied Military Academy on the Hudson River in New York, Mindy fell into step with the place. In retrospect, Mindy is thankful for the West Point alternative, although she admits her four years were trying, "I had a rough go of it at West Point."
Freshman (Plebe) year, Mindy struggled academically, admitting, "I skated through high school and never really learned how to study effectively." That first year, the highest grade she achieved was a "C". With her interest in science and space, she majored in geospatial information science. As she began taking classes of greater interest, her learning skills improved and so did her grades
The next year posed Mindy's first leadership test. Second year cadets (Yearlings) start their career in Army leadership as Team Leaders and assume responsibility for the military development of a Plebe. Team Leaders are responsible for helping their designated Plebe adjust to military life and providing guidance and instruction to help their Plebe succeed and flourish within the regimentation of the Corps of Cadets. The Team Leader role is a cadet's first experience with the significance of effective leadership.
Mindy's assigned Plebe, had been deemed the worst cadet in the class by many summer training cadets. He had neither the desire nor interest to adjust to cadet life, and he failed to accept the performance standards of a cadet. He rarely prepared for routine inspections, did not work with classmates to accomplish various tasks inside the barracks and exuded a lackadaisical attitude.
Despite many hours of assisting the cadet and developing a plan toward his success, neither his attitude nor performance improved. "Many in the cadet chain of command told me I did not belong at West Point, because I could not "fix" this cadet," Mindy said. The cadet was eventually kicked out, but the assessment and criticism of her by many of her own classmates continued to weigh heavily on her. She continued, "Cadets can be critical and cynical. No classmate of mine had the insight or the maturity to determine who did and didn't belong at West Point."
In addition to challenges in leadership development, Mindy battled her own weight. With a daily mess hall diet in excess of 2500 calories, she struggled to stay within the strict cadet height and weight standards. Most college age women experience a weight gain, but the challenge is amplified with mandatory meals prepared to meet the appetites and metabolisms of 19 year-old men.
Adjusting Focus
Not one to lose to peer or physical difficulties, Mindy found two bright spots that year that helped her reflect and focus on becoming a military officer. She joined the Theatre Arts Guild (TAG), a group that assists in the production of stage shows at West Point's Eisenhower Hall theatre. She also met Ray Kimball, a junior year cadet.
Volunteering at the theatre provided Mindy space needed to focus on who she authentically wanted to be. Ray, her future husband, provided her an ear to vent frustrations without conferring judgment. Mindy reflected, "That year I matured greatly. I realized the importance of being genuine and being myself. I felt many were putting on a show, faking something to impress others. I made a pact with myself to be honest and to be me. It sounds so simplistic, but it is my core."
Hers is a lesson Mindy later shared with cadets and lieutenants, "The Army spends lots of money educating you. They selected you based on who you were before your got there. They want soldiers and leaders with minds and heartbeats. People who think, people with diverse background and people who will seize opportunities. Don't try to fake being someone you are not, because everyone, and certainly your soldiers, will see through you. Just be yourself and always try to keep making yourself better."
Since graduating in 1996 and becoming an officer in the Adjutant General's Corps, Mindy has served in a variety of assignments globally, including deployments to Bosnia and Iraq (her current assignment).
Following a successful company command in Korea, the Army promoted Mindy to major and offered graduate school attendance with a subsequent assignment to West Point teaching geography and environmental science. Simultaneously, she selected the Space Operations functional area as a secondary career field. She could become involved in Army space systems while continuing towards becoming an astronaut. Additionally, and after nearly two and a half years apart from Ray, her husband, she welcomed the chance to live under the same roof.
Raising Awareness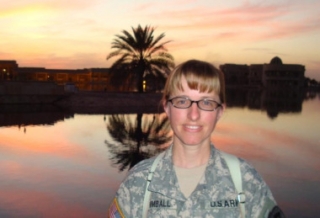 With a keen interest in climate, Mindy pursued a Masters of Science Degree in Geology at California State University. Her research focused on paleoclimatology, the study of past climates. She also learned of The Climate Project, a non-profit organization focused on public education of climate change.

Mindy studies the science behind climate change and not the political implications. Selected as one of The Climate Projects first group of volunteer presenters, she does not represent the Army or any policies on climate change. "Whenever I am at a National Park, with a Girl Scout troop, or chatting with neighbors in a living room, it usually comes out that I am in the Army. I make it very clear that I do not speak for the Army, nor do I imply the Army endorses my activism," she explains. Mindy does note, however, that Field Manual (FM) 3-07, the Army's keystone doctrinal publication for stability operations, identifies climate change as one of the eight "trends that will affect ground force operations in an era of persistent conflict."

Following the birth of the Kimball's son Daniel, Mindy contemplated leaving the military. "There were so many times I thought about leaving the military. If I did, I knew my goal of becoming an astronaut would die. I also knew there would be many future opportunities in the military as a soldier and a parent. It all came down to asking for help. I realized that regardless of your job—active duty mom, working mom, stay-at-home mom, it takes a strong support system to be a successful parent. I realized I could continue to serve and keep my astronaut dreams alive." Mindy explained. A few months later, Ray was deployed to Kuwait.

Mindy admits deployments are difficult. Prior to Mindy's deployment to Iraq in 2008, she and Ray had to explain to 7 year old Daniel, "… mommy is leaving and will not live with us for almost two years." She continues to explore this challenging situation, explaining, "We love him very much. We also made a promise to the Army, and we need to fulfill that commitment when asked. We've had many crying phone calls. But we continue to talk with our son and share our true feelings. Ray and I rely on each other to hang onto that attitude. When we are together, we devote all our energy to being a loving and caring family. It is what works for us."

Currently, Maj. Mindy Kimball is deputy of the Space Support Element, 1st Calvary Division currently based out of Camp Liberty, Iraq. In this position she works closely with signal, intelligence, information operations and engineer staff officers to ensure GPS accuracy, satellite systems communication, missile warning and defense, space weather and counter IED operations.

In addition to being a parent, spouse and Army officer, Mindy considers herself an environmentalist dedicated to learning about the world and making conscious decision to be a good steward of our planet's limited resources. Earlier this year, Maj. Kimball was the featured speaker at this years Women's History Month observance. She said, "Women are influencing the conversation and preservation of plant Earth and its assets; they play a key role in the education and research."

As for her dream, Kimball shot for the stars when she submitted her official application for astronaut candidacy to NASA. She is schedule to return from Iraq in mid-2010.
If you would like to share your story or that of another veteran women, please contact me. Part 7 of the Honored Role series will feature an active duty lieutenant preparing for deployment to Afghanistan.