Twenty years ago on November 9, 1989, the Berlin Wall fell and the Cold War ended. The echoes of the fall of the wall were heard around the world that night and changed lives forever. As an Army lieutenant stationed in Germany, this is one historic event I was fortunate to witness. Along with several friends, we got to touch and see history in living color. We were no longer looking at black and white photographs in books and Army manuals.
Nearly a year later, on the eve of the reunification of the German Democratic Republic (GDR/East Germany) and the Federal Republic of Germany (FRG/West Germany), the US Army Command in Europe granted service members the next day off. A reunification treaty between the FRG and GDR had been approved on September 20, 1990. The last step was the official unification of Germany at 00:00 (Central European Time) on October 3, 1990.
Upon arriving home that evening Ted, my husband, and Bill, a lieutenant in his company and our next-door neighbor, got together for dinner. Bill casually asked, "Why are we not in Berlin tonight?" In stereo, Ted and I returned the same question. We all needed to be in Berlin—right there and right now to watch the world wake up from history.
Quickly, Ted and Bill called another lieutenant in their company. When Mike answered the phone Bill stated, "We all need to be in Berlin tonight. How about driving that new car of yours?" Without hesitation, Mike said he would pick us up in 15 minutes. The three of us jumped in Mike's shinny new BMW and sped north six hours to Berlin.
Checkpoint Alpha, the only allowable passage from West Germany into the soon-to-be former East Germany for US soldiers, was abandoned. Where previously we entered posts, guarded by heavily armed East German soldiers with large pictures of Lenin glaring from the otherwise barren walls, bearing three forms of identification and special military orders, were now empty. What used to take time, patience and a few packs of western cigarettes to be waved forward, we zipped through at 160 km/hour.
We then came to Checkpoint Bravo. The entrance to West Berlin from East Germany. The wall near the checkpoint had been sprayed painted "Danke Gorbi". The windows were smashed and streamers waved from the Soviet T-60 tanks that were on pedestals at the checkpoints entrance.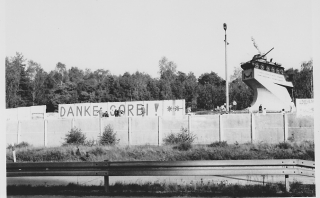 We drove straight to Brandenburg Gate in a record 5 and a half hours. The almost united city was teeming with ten of thousands of revilers. We stood under Brandenburg gate precisely at midnight witness to the reunification of East and West Germany.
A few hours later, we stood chipping away at the wall with a hammer and chisel rented to each us by new-christened entrepreneurs. I stood next to an old man, who was both frail and determined. We exchanged smiles and greetings. I asked him where is was from. With tears of both joy and saddness he shared his story. He began, in his best English and my limited German, that on a morning in August 1961 he left his home to go to work. By the time he returned home, the wall had been erected. He was now in West Berlin and his wife in East Berlin. He handed me a small piece of fractured concrete and said let this be both a souvenir and a reminder.
That old man was doing his part to tear down the wall that had divided he and his wife, his country and our world for 28 years. He chipped intently at the graffiti covered concrete blocks that had encircled East Berlin and turned it into a prison. He had been to that spot everyday since November 9, 1989, doing his part to remove all remnants of the wall.
Witnessing history is a moment like no other. That day standing next to that old man, we watched the world wake up from history. As Bill, our friend, stated, there was no other place we wanted to be that night. To borrow a line and a video from the band Jesus Jones, we were there "Right Here, Right Now."