This is the third installment in the weekly Honored Role Series.
Before kindergarten Stephanie Ahern drafted her life plan; graduate high school, attend a good college, earn a masters degree and then a doctorate, like her father a metallurgical engineer, work for a year or two and than get married. That is as far as she got. Today Ahern, 36, a major is the US Army, accomplished precisely what she set out to do.
Although never quite sure what a metallurgical engineer did, early on Stephanie focused on obtaining as much education as possible.
During her junior year in high school, Stephanie received a postcard from West Point inviting her to an information session at a local country club. She had received the invitation based on her strong scores on the PSAT, the standardized test designed to measure ones ability to do college work. The location of the session drew Stephanie as much as learning about the school.
Not your typical college education, West Point's academic program balances humanities, engineering and sciences, as well as the physical and military development programs. As the nation's top leadership school, West Point prepares its graduates to become Army officers. Stephanie discovered the tactics to pursue her life plan.
Intrigued by both a challenge requiring more than success in the classroom and opportunity to serve her country, Stephanie applied for early admission. When asked how her education at West Point and serving as an Army Officer has shaped her life. Stephanie responded, "The better question is how has it not shaped my life?"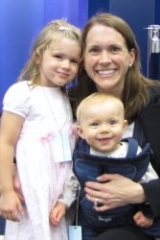 On The Ground
Since graduating in 1995 and becoming an Army Engineer, Stephanie has served in variety of combat-heavy construction engineering units around the world. Stephanie described her two-fold role: "leading America's son's and daughter's into harm's way, and making things, particularly infrastructure, better for people, at each location."
Her early leadership experiences as a lieutenant included deployments to Bosnia-Herzegovina in 1996 and 1998, and Albania and Kosovo in 1999. Well on her way to fulfilling her life plan, Stephanie married a fellow officer whom she met in her officer basic class five years earlier.
In November 2001, the month the US Army entered Afghanistan, Captain Stephanie Ahern took command of A Company 92nd Engineers, a combat-heavy engineer company, based at Fort Stewart, Georgia. Three months later she deployed the unit to Kandahar.
On the Front Line
A Company's mission was to build the Army's initial base camp for soldiers of the 101st Airborne Division and Canadian Infantry forces. In early March, the US Army and allied forces launched Operation Anaconda to root out al-Qaeda and Taliban forces in the Shahi-Kot Valley. When this first large-scale offensive operation began, all the infantry soldiers deployed from the base camp leaving the engineers behind to guard the base. Stephanie's company assumed the mission of security from the perimeter foxholes. Nearly 13% of A Company's soldiers were women including three of the six platoon leaders. Ahern noted, "The secondary mission of engineers is to fight as infantry when required."
By law, women are not allowed to serve in units with a direct ground combat mission or co-locate with a unit whose mission is direct ground combat. The pragmatic Ahern said gender in a combat zone is not an issue for the soldiers on the ground. There is no such thing as the "battlefield" separate from some "rear echelon" in this war. Women are fighting alongside men.
Although the US infantrymen replacing Ahern's company on the perimeter were a little surprised to see so many women in the foxholes, the most important factors, Ahern said, "Are performance and competence. A soldier is a soldier, and we all have a job to perform. A fellow soldier expects that."
Women at Arms
Wars without front lines have changed the way the Army fights. They have educated a new generation of soldiers – women with combat experience and the warrior ethos. Ahern remained focused on the mission, "Perimeter duty helped renew my soldiers' enthusiasm for being engineers, we like to build things. However, we also finished the mission more confident in each other and ourselves."
Following Operation Anaconda, Stephanie's company did get to get a small city. They built multiple office and living buildings, created electrical and plumbing systems, restored the local water well for non-potable needs, built guard towers and gate obstacles, installed a laundry facility and incinerator to burn trash, and graveled the entire living area and motor pools.
Shortly after bringing all her soldiers home safely to Fort Stewart, Stephanie deployed her company to Iraq in 2003. Again, the engineers from A/92nd constructed the base and established logistics hubs to support various units. For Stephanie, the Army has always been about learning, leading and adapting.
After returning from Iraq, Stephanie quickly adapted to an academic mode. Selected to be an assistant professor at West Point, Stephanie attended graduate school at Notre Dame earning a master degree in International Relations.
Teaching cadets at West Point is an honor and leadership experience. Ahern reflected, "These cadets volunteered to enter the military knowing they would eventually lead soldiers in Iraq and Afghanistan. They inspire you to teach better and more thoughtfully, and constantly reflect on your words and choices. They understand theory but focus on application. Our future Army will remain in good hands for many years to come."
Preparing Others for the Frontline
Among the courses Captain Ahern taught was "Winning the Peace," an interdisciplinary approach combining sociology, history, religion, and ethics. She said, "It was designed to help these officers-to-be prepare for the complexities of working in Iraq and Afghanistan, and to create strategically minded soldier-statesmen for the US Army at the junior officer level."
Much of the class centers on ethical dilemmas that require the cadets to synthesize all their military experiences, academic classes, and news reports to go beyond the textbook to develop a solution. Ahern described, "We quickly learned that what may seem like a black and white issue quickly mutes to gray on the battlefield. One course goal is, 'to increase awareness and critical thinking about our own perspectives, while also more clearly understanding other cultures, how they perceive us, and their own motivations for acting.' This is illustrated most effectively during a three-day trip to Jersey City."
Ahern continued, "Located directly across the river from New York City, Jersey City, New Jersey, is a multi-ethnic, multi-religious, and multi-cultural city of 250,000 people, boasting over 50 spoken languages. With its large Muslim community and continuous influx of diverse immigrants, this city has dealt with many challenges, especially throughout the last eight years."
In the classroom Ahern excelled in being the bridge between theory and application given her background in both. "As future leaders and decision-makers, understanding various perspectives and cultures is paramount. Upon graduation, their job is the frontline."
While teaching she also juggled the completion of her doctorate in International Relations and her family. Stephanie's husband, a lawyer with the Department of Justice, was based in Washington D.C. Nearly of the weekend in the three years between 2005 and 2008; her husband drove the five hours between D.C. to West Point. Claire, their daughter born while in graduate school, was 14 months old.
In 2008 upon completing her teaching assignment, Stephanie joined her husband in Washington D.C. She recently completed a fellowship as an International Relations Fellow on the Council of Foreign Relations and an internship with the Department of Treasury to prepare her for secondary area of specialty in the Army, that of Strategic Plans and Policy. Ahern explained why she pursued these two opportunities, "Understanding various perspectives: cultural, economic and financial are all essential to developing the Army's future plans."
A New Plan
Ahern has accomplished everything she set out to do in kindergarten. She does acknowledge it is time to update her life plan. That plan will include a different type of challenge – one that includes future deployments to Afghanistan. Now mother to Claire, 4, and Liam, 10 months old, as a family they have not yet experienced a soldier-scholar-mother deployed in a war zone. Ahern said, " I never want to get to the point where it is an easy thing for me to do. I also want my children to understand the importance of doing something greater than oneself."
If you would like to share your story or that of another veteran women, please contact me. Part 4 of the Honored Role series will feature an Army officer turned United Nations Peacekeeper.