This is the second installment in the weekly Honored Role Series.
As a junior high student in Franklin, Tennessee, Becky Kanis remembers the excitement and awe of fellow parishioners when they learned a young woman from St. Philip's Catholic Church received an appointment to a service academy. Carol Anderson, a high school senior and St. Philip's parishioner was entering West Point that summer.
Becky Kanis was in 8th grade when she first met Carol and learned of West Point, the military college in New York. As the eldest of seven children, Becky's parents insisted on two things: she had to attend college, and she had to find a way to pay for it. West Point offered full scholarships in return for five years of active duty military service.
Two years later, Becky received a college-recruiting brochure in the mail from West Point. The brochure had been sent to Becky by the admissions department based on her solid pre-SAT scores. Remembering Carol, she decided to see what West Point offered and spoke with her high school guidance counselor. The counselor chuckled picturing Becky in the highly structured and uniformed environment. "While I was a good student and athlete, I was kind of a free sprit," Becky recalled. His laughter was her motivation.
Challenges not anticipated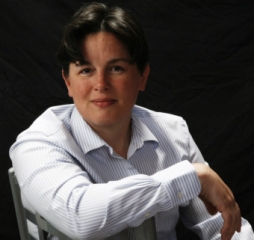 Becky entered West Point as a cadet in the summer of 1987, just a month after Carol Anderson graduated. The Military Academy challenged Becky in every way she anticipated—physically, mentally and academically. What she did not expect was the emotional struggle. Nearing the end of sophomore year, Becky realized she was a lesbian. She did not know anyone who was gay and had no frame of reference for this new self-knowledge. She did understand, however, it posed a significant dilemma.
The military banned soldiers who were gay. Yet Becky loved West Point and looked forward to becoming an Army officer. She confided in a few close friends and quickly learned there were other gay cadets. She decided to live with her predicament, hoping and praying she would not be outed and expelled. Becky was not ready to make a decision between sexuality and service to country. Straddling these two worlds, however, left a significant imprint on her.
Service and sexuality
In 1991, Becky graduated West Point and was commissioned a lieutenant in the Signal Corps. She served in various positions of increasing responsibility. As a Captain, Becky commanded a company in the 112th Special Operations (Airborne) Signal Battalion stationed at Ft. Bragg, North Carolina. This battalion provides communications support to various units within the U.S. Army Special Operations Command (USASOC), namely Army Rangers and Special Forces units.
The unit has also been involved in every wartime mission assigned to USASOC in the 20th century, including operations Just Cause in Panama, Desert Storm in Kuwait, Task Force Ranger in Somalia and Uphold Democracy, the aborted mission to liberate the people of Haiti.
Becky recalled the defining moment as a company commander. One of her platoon leaders approached her prior to a morning run and bluntly asked her if she was gay. Becky was flabbergasted.
Being a lesbian was never an issue for Becky or her soldiers. She did not lead with her sexual identity as her defining quality. She led with strength, determination, and focus on her soldiers and the mission. But she knew she did not lead with honesty. She consciously had to hide her orientation for fear for being outed and kicked out of a job she loved.
Answering the question
In the split second before answering her platoon leader she thought: "do I tell him the truth? Is he going to turn me in? Will he trust me if he finds out otherwise?" Becky answered simply "Yes, why?" The platoon leader said he knew someone he thought Becky might enjoy meeting. Becky explains, "There seems to be a desire in others to be a match maker. When you are single, everyone wants to introduce you to someone. It is all quite benign, but it puts one in an awkward situation."
While Becky loved the time and challenges of both West Point and being a leader in the Army, she grew tried of the need to be vague about her relationships and how and with whom she spent her off time. She was no longer willing to straddle the worlds of sexuality and service to country. After 9 years on active duty, she resigned her commission.
Finding Common Ground
Becky's passion for public service remained strong. One of her former college professors introduced Becky to Rosanne Haggerty, the founder and president of Common Ground a non-profit organization in New York working to end homelessness. Rosanne was looking for a former military leader to run a pilot program to reduce street homelessness by two-thirds.
Intrigued by the social challenge and the opportunity to truly impact other people's lives, Becky joined Common Ground. As the Director of Innovations, she runs a laboratory testing new programs. She consults with cities across the country on how to transform their street outreach and housing placement systems for measurable reductions.
While others often tell her she is doing such good work, she describes it as un-doing "bag things". She loves solving problems, because it brings people closer and draws upon creativity. Becky sees homelessness as the intersection of bad choices on the part of individuals, poor practices on the part of people who are supposed to be helping them, and bad policies that hurt us all, not just the homeless.
There is another "bad thing" that Becky is committed to "un-doing." She is committed to repealing the military's Don't Ask, Don't Tell policy, implemented in 1993 and preventing openly gay soldiers from serving in the armed forces.
The Good Fight
To that end, Becky helped found Knights Out an organization of West Point graduates who are united in supporting the rights of lesbian, gay, bisexual and transgender soldiers to openly serve their country. As the organization's chair. Becky explained, "To me, this is an opportunity to strip away the anonymity of Don't Ask, Don't Tell, to end our silence, connect with one another in solidarity, and most importantly, to make sure LGBT cadets and active duty officers know that they are not alone."
Becky believes the end of "Don't Ask, Don't Tell" is imminent. Should the ban be repealed, Knights Out is well positioned to serve as a resource on how the military can effectively integrate gay and lesbian soldiers.
"Being entrusted with the lives of America's son and daughters was a singular honor,"  Becky says. Solving social problems with Common Ground, however, and ending street homeless specifically, is the most rewarding experience of her entire life.  She concludes, "There is zero moral ambiguity—no questioning whether or not I am fighting a just or unjust war. For that I am truly grateful and wake up every single morning ready to fight the good fight, again."
If you would like to share your story or that of another veteran women, please contact me. Part 3 of the Honored Role series will feature a active duty Army major who is a soldier, scholar and mother.