This is the first installment in the weekly Honored Role Series.
Odessa Maxwell is the story of a soldier turned poet. A study of complexities and contrasts, Odessa Maxwell describes herself as an unusual woman. Born in Germany to a Japanese mother and African-American father, Odessa grew up in the south. The family settled in her father's hometown of Louisville, Kentucky.
Life was not easy in the segregated city and state. Not only did she face racial discrimination and prejudice, but she encountered adversity from extended family members because of her own family's mixed racial origins. Her paternal grandparents wanted little do with Odessa.
Snide Remarks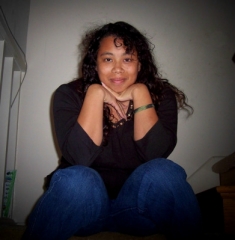 An Air Force sergeant, Odessa's father rarely spoke of his military service. Her decision to serve her country and follow in his footsteps emanated from a juvenile challenge. Looking at a college-recruiting poster depicting parading West Point cadets, a passing student glanced at Odessa and than at the poster. The schoolgirl remarked Odessa could never make it into West Point and walked away. Odessa sent the postcard requesting more information and an application.

Initially Odessa began writing stories and poems to capture and reflect her thoughts and emotions derived from insensitive remarks of others about her and her family. During high school alone, Odessa wrote more than 100 poems meditating on her family and community.

Odessa had all the right stuff to attend West Point: a strong high school academic foundation, success as an athlete in cross-country running and track and field, and a plethora of extra curricular activities that included a record of volunteer service at the Louisville Zoo. At 17, Odessa received an appointment to West Point. In 1994 she graduated and was commissioned a second lieutenant in the US Army as an Ordnance Officer. Her initial tour of duty was in Germany.
An Outlet
While in the Army, poetry became an outlet for Odessa to explore her emotions and study her experiences. She also pursued an avocation as a photographer capturing in pictures many of the places she was stationed.
Following six years on active duty and seven in the National Guard, Odessa resigned her commission to pursue her writing career, her love of animals and to focus on raising her three children. In August 2006, she began to compile those childhood and Army poems, and her photographs. By November Odessa published her first book of poetry and photographs, "Thoughts of My Mind, Heart and Soul".
Within Odessa's short and concise phrases she expresses broad and difficult concepts. Her poetry, simple and thoughtful, eloquently communicates the complexities and tensions within her inner and outer worlds, and the experiences that have shaped her.
Odessa's story is best told in her own words. This is a poem she wrote in 2007. Her words provoke philosophical inquiry and deliberation of our own lives.
[spoiler effect="phase" show="Read Odessa's poem" hide="Hide Odessa's poem"]
This Story is My Life
A Poem by Odessa Maxwell. Copyright 2007.

You see, to understand my lines and me–
You must glimpse at how I came to be.
Love was mixed with:
One part black man,
One part Asian–
These two parts making me whole.
But this happiness would be no more
When that happy bride entered foreign soil,
She faced a war greater than any soul.
There was no love when an only son
Returned with precious gifts of a girl and boy
Whom he blessed with family namesakes,
Which to me was the greatest mistake!
They assumed that little Asian lady
Knew nothing, was nothing.
But she heard all the whispers,
All the taunts,
All the ugliness.
She heard them all say that her children
Would be nothing, would have nothing.
What I couldn't understand
Was how the oppressed could oppress,
How the hated could hate,
How a minority could present the same
That generations fought so hard to rise above?
But beyond that, how grandparents could forsake
What was their own to love not break?
I had to prove what was rightfully mine
So I strived to prove them wrong
But what I didn't know was that–
No varsity letters in the world,
No academic achievements,
No titles of President
Would open the door of their steeled hearts.
This period of my life was dark
Leaving an indelible mark
Because my true grandmother
My mother's mother
Who never laid eyes on me
Went to God you see.
Now, the honor of my selection
Was cheapened by a cousin's remark
That I would have to give some in order to get some
That I didn't have what it takes to be a proud US officer.
To add more hurt to injury
To my grandparents I gave
An invitation to my graduation
For them to witness how well
Their little girl excelled
Hoping to lay aside
All the pain inside
But they ran
So I broke bread
With my true family and friends.
The academy–I did graduate!
An officer—I did make!
But little did I know was that–
When I married
Many dreams I would slowly bury:
Bearing the burden
Of bread winner and army leader
But while doing God's will
By fighting for that life inside
Evil spread through and wide
Through his drugs and his delinquency
So a single mother was I destined to be.
So I began to write
To not loose this fight
And a fight it was
Because self defense was probable cause
When men resort to breaking laws
By laying on me unloving hands
Along with their unlawful demands.
So that brings me back to why
In August 2005 what I lost was found;
What I was, was no more!
My creator opened my eyes and heart
To find and to make a brand new start.
So I began to write
From morning to night
Bleeding my heart and soul
In order to become whole.
The ink was all the tears that would cry no more;
The paper was my memory of what would be no more;
The words were my weapon for fists that would defend no more!
I believe that my Creator has this plan
And 33 years ago it began
With that little lady from Japan.
So when my words seem soft
But the message so deep
Listen to my thoughts that I want heard!
Listen to the burdens of my soul!
But don't give me any sympathy
Because this story is my life!
[/spoiler]
While writing her next two poetry anthologies, tentatively named "For the Red, White, and Blue: Poetry for Military Men and Women, Veterans and Their Supporters" and "Why Should I Pray, " Odessa is a single mother to three children. She also trains her own show dogs and therapy canines. Odessa is an unusual woman.
I'm going to share weekly stories of other West Point and veteran women. If you would like to share your story or that of another veteran women, please contact me. Part 2 of the Honored Role series will feature a former Army Signal officer working to end homelessness.