This is the 23nd installment in the Honored Role Series."
Two disciplines thousands of years old; the profession of arms, fighting for and defending your nation, and yoga, an ancient practice whose purpose is enlightenment and union through physical, mental and spiritual movement and discipline. Both require strength and practice.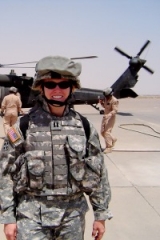 Army Captain Kelly Peyton Howard, a West Point graduate, started practicing yoga in 2004 shortly after her first combat tour in Iraq. A multi-sport high school athlete from Richmond, Virginia, at West Point she competed on the marathon and crew teams. The years of running on pavement took a toll on her knees. Looking for a way to combine a demanding workout with stress relief, Kelly tried yoga.

"From the first Ashtanga class, I realized what an amazing workout yoga is. I quickly learned its benefits, and the philosophy resonated with me. It is about quieting the mind and listening." Howard said.

In 2002, Kelly graduated with a degree in Political Science and Latin American Studies, and a commission as a second lieutenant in the Adjutant General's Corps.

Within a week of the Iraq War beginning, 2nd Lt. Howard reported to her first duty assignment at Ft. Hood. The following month, her company commander, executive officer and first sergeant deployed. Put in charge of a postal rear detachment, Howard had to manage the supply, inventory, training, legal and family support issues most officers do not face until they are captains and as Howard describes, more experienced "leadership-wise."
The Crucible
Appointed rear detachment commander, Kelly felt as if she had been thrown into a fire. Barely out of the Army basic officer's course, she concentrated on learning her new role, asking questions, paying attention to details and listening to others. Needing an outlet from the challenges and responsibilities, she exercised intensely. While working out provided temporary relief, she found herself constantly focused on and worried about what needed to be accomplished. "I was struggling with maintaining balance in a profession that rewards imbalance." Howard confided.
Believing exercise was merely about sweating, evaluating one's heart rate, and training for the twice annual physical fitness test, a friend encouraged Kelly to try yoga. "I was pleasantly surprised. In addition to being a physical workout, it had a subconscious effect. Asthanga or power yoga calmed me and gave me something to hold onto." She began to study yoga, not just the practice, but also its history and the mind-body-spirit connection. She learned the relationship of the three created feeling of contentment along with physical strength and energy, and a calm, peaceful and clear mind.
A Change
With the strengthening of her personal yoga practice, she found an opportunity to step away from the judgments, labels and expectations of others.
It changed me. I learned if you can accept yourself, you will be more accepting and less judgmental of others. I became a calmer, balanced person," Howard said.
The Warrior poses or Virabhadrasanas, in Sanskrit, are foundation movements and positions in yoga. The three challenging poses take strength, steadiness and a fierce determination to hold them properly for extended periods. Kelly said to do so one has to have a focused mind and self control.
Captured in ancient texts, the pose honors a dialog between famous and feared warriors from Hindu mythology as they prepared for war. Yet, yogis are known for practicing non-violence.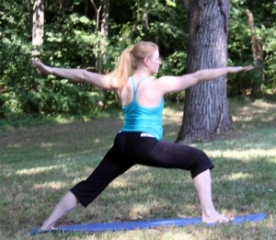 According to YogaJournal.com, "We practice Virabhadrasana, not to honor the practice of violence against others, but to fight our own ignorance and ego. What's really being commemorated in this pose's name and held up as an ideal for all practitioners, is the spiritual warrior, who bravely does battle with the universal enemy, self-ignorance, the ultimate source of all our suffering. As spiritual warriors we also battle for what is true and just."
A year after Kelly starting her own practice she attended a yoga workshop with Bryan Kest. Asked if she intended on becoming an instructor, she replied, "No, I just like his style of teaching." That workshop, however, planted the seed for a future career.
Attending the Army Captain's Course the following year, a friend asked her to teach a group yoga class. "From there, it grew organically," Howard commented. Her practice and passion increased as she became a registered yoga coach. She has since completed nearly 1,000 hours of teacher training and has taught at the Pentagon Athletic Center, Camp Victory in Iraq, and Ft. Jackson, SC. Kelly is registered by the Yoga Alliance at the 500-hour level.
A Bridge to Far
It's a huge stretch (no pun intended) between Army officer and Yoga instructor. Howard chuckled, "There are a lot of stereotypes about yoga instructors, such as they are all the tree-hugging granola types."
Deployed to Iraq for a second tour in 2006-2007, Howard served as the operations officer for Multi-National Iraq Force Commanders, Generals George Casey and David Petraeus. She was responsible for all aspects of battlefield and theatre travel, and trips back to the United States for congressional testimony. This included more than 75 unit visits across Iraq, numerous extended trips outside of Iraq, and meetings at the White House, Capitol Hill, Pentagon, foreign embassies and government offices. All the while, Kelly continued to practice and teach yoga to soldiers in theatre. In her professional capacity she worked closely with Colonel Peter Mansoor, Petraeus' executive officer during the troop surge in 2007-2008.
Sage Counsel
A few years later, Howard and Mansoor met at a counterinsurgency conference. Knowing she had decided to leave the Army, Mansoor inquired about her future plan. She told him she did not have one. Mansoor shared with her, "The happiest people in the world are those who find something they love, and then find a way to make money doing it. What motivates you?" Kelly thought it over.
As she experienced the impact on others through her yoga practice, she became interested in the growing field of Integrative Health. "I realized yoga and holistic approaches toward health, nutrition, fitness, and mental and spiritual well-being are where my passions lie. Helping others develop a more peaceful lifestyle makes me happy and fulfills me," said Howard.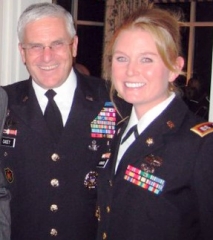 In 2010, after completing a yearlong course at Duke University's Integrative Medicine Center, she became a Certified Integrative Health Coach. In the past year, she's coached more than 35 clients ranging in age from 19 to 73 on a variety of personal health objectives.

Nearing the end of a decade of service and her final assignment as Special Assistant to the Chief of Staff of the Army at the Pentagon, Kelly is transitioning to the Army Reserves and moving full-time to pursue her passion of helping others through yoga and integrative health coaching. As she concludes her time on active duty, Howard's former boss, General George Casey, says she is "one our very best and brightest young officers."
Yoga for Soldiers
Early this year, in its first significant overhaul of soldier physical fitness training in more than 30 years, the Army is incorporating yoga into its new exercise regimen. Although yoga has been used as a modality for soldiers with PTSD, the practice is being incorporated to improve combat readiness.
In 2010, General Mark Hertling, then the Deputy Commander for military training and now Commanding General of US Army Europe indicated that yoga would be introduced to soldiers at several different basis during a six month phase in period. Hertling said that traditional fitness training often leads to muscle stress, fracture bones and other injuries. Yoga's emphasis of flexibility will be a safeguard as well as a way for soldier to gain new skills necessary for combat.
In August, Kelly launched Integrate into Great, a coaching practice focused on creating a system of sustainable, holistic health—the mind-body-spirit connection. Yoga helps Kelly and millions of others manage stress, overcome anxiety and achieve top physical conditioning.
Are you crazy busy? Yoga is a great way to relax and exercise at the same time. Perhaps it is time to give it a try.
Namaste.