40 years ago today, the first women graduated from the United States Military Academy at West Point, NY.
In honor of that historic day, May 28,1980, some members of West Point's Class of 1939 presented each of the 62 women of the Class of 1980 with a silver tray engraved with congratulatory words, their name, and USMA 1980. A note accompanied each tray with inspiring words from old warriors to new warriors, may you go onto be examples for others to follow. Gen. Andrew Goodpaster, Class of 1939 and Superintendent held the ceremony in the Supe's Garden.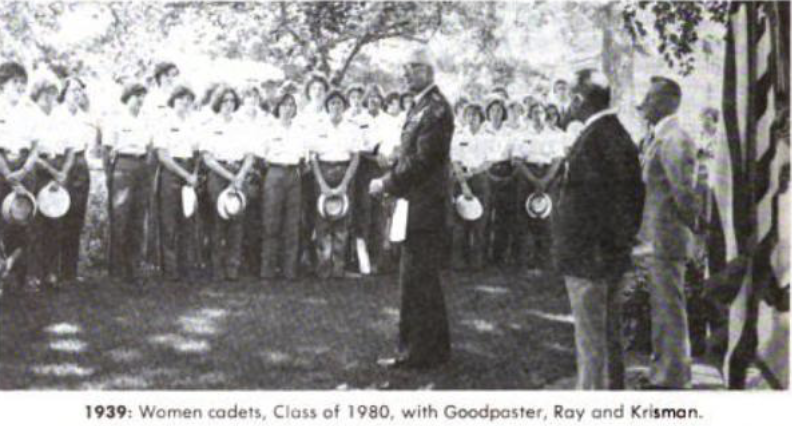 The first women cadets arrived in 1976, and these women of the class of 1980 found themselves in the vanguard of a new generation of leaders in America. Their willingness to enter the fortress of West Point, face the challenges of a military education, and persevere through an almost overwhelming array of difficulties, opened the gates for many to follow. Despite detailed integration plans, the first women not only faced significant challenges as pioneers but also received frequent harassment from many of the cadets and faculty who saw their entrance into West Point as an affront to one of the few remaining bastions of manhood. One of the most popular comments the women received was, "I am going to do everything in my power to run you out of here and to make sure that you and your classmates (referring only to the women) do not graduate."
Of the 119 women who entered on July 1,1976, 62 graduated four years later – just barely half. Ironically, the only 1980 West Point graduate awarded a prestigious Rhodes scholarship was Cadet Andrea Hollen. By 1990, a mere decade later, Cadet Kristen Baker was appointed Brigade First Captain, the highest-ranking cadet in the corps. Twenty-five years later, the Class of 2005 graduated 76% of the women who entered in 2001. In 2018, Simone Askew, Class of 2018, was the first woman graduate to be both a Rhodes Scholar & First Captain.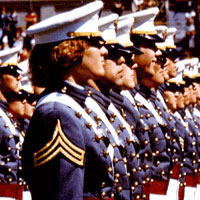 Next month on June 13, the Class of 2020 will graduate in a world changed by a pandemic and an international financial crisis. The Long Gray Line will stretch and bend a little more with an estimated 230 women joining. 13 have earned prestigious scholarships and fellowships. Nearly 81% of the women who entered four years earlier will receive their diplomas having been commissioned as Second Lieutenants on 23 May 2020. They represent 20% of this graduating class.
The Long Gray Line is in the present, stretches into the future and extends back more than two centuries. It is a stalwart chain. The women of the class of 1980 gave birth to a second generation of women graduates and leaders to go onto newer and higher heights. 5600 of us have followed your footsteps. Each adds strength to that stalwart chain and the Long Gray Line leads forward.