Watching President Obama's 2014 State of the Union address highlighted an embarrassing paradox we have in our country and in our state. He said:
Today, women make up half our workforce. But they still make 77 cents for every dollar a man earns. That is wrong. And in 2014, it's an embarrassment. Women deserve equal pay for equal work.
We Utahns are proud of our economic growth, and rightly so. Nationally we rank as the "Best State for Business and Careers" by Forbes magazine, three years running; the Kaufman Foundation acknowledges Utah number one for Economic Dynamism," Pollina Corporate lists Utah as the top pro-business state, and the U.S. Chamber of Enterprising States ranks Utah third in STEM job growth and business birth rate and 1st in high tech business economy.
But, and here's the embarrassing paradox, according to a recent 24/7 Wall Street; article when it comes to equal pay in the state, women are paid an average of 70 percent of what men are paid. What's most embarrassing is that Provo-Orem and Ogden-Clearfield rank No. 1 and No. 2; respectively as the worst-paying cities for women.
At Provo-Orem a women's median income is 61.6 percent of men's (men's median income $51,692, women's median income $31,846) making it the largest disparity of any metro area. At Ogden-Clearfield, women's median income is 65.2 percent of men's (men's median income $52,184, women's median income $34,018.)
The typical full-time Utah working woman earns $34,062 a year, compared to $48,540 for a male — a gap of $14,478 annually. The Utah gap is 44 percent higher than the national gap of $10,061, and the fourth largest gap in the nation. With nearly 85,500 Utah households led by women, the economic impact is seismic.
The National Partnership for Women listed that as a group, full-time employed Utah women lose more than $4.3 billion — yes, billion — every year because of pay disparity. Eliminate this financial gap and each full-time working woman in Utah could afford groceries for an additional 2.1 years, buy 3,890 more gallons of gas, pay mortgages and utilities for 10 more months, pay rent for 18 more months, or purchase family health insurance premiums for 4.1 more years.
Think of the impact that would have on the 28.2 percent of Utah's women-led households now living below the poverty level.
Businesses also suffer the consequences. Gender income inequity makes it harder for companies here to attract, and even harder to retain, women with the education and skills our state needs to sustain long-term economic health and growth.
While many will say the gender wage disparity has to do with personal choices and education, the gap persists when accounting for such factors. According to the GAO:
Working mothers pay a 'penalty' for having children while fathers get a bonus. Nationally, women with children are paid 2.5 percent less than women without children, while men with children experience a boost of 2.1 percent over men without children.
And with the rates of Utah women graduating from college falling below the national average, this gap is likely to continue. Only 47 percent of bachelor's degrees in Utah are earned by women. This is the lowest percentage of all 50 states.
Conversely, gender income inequity contributes to instability. Families have less for food, clothing and other necessities, and nothing for discretionary spending. Also, gender income inequity makes it harder for companies here to attract, and even harder to retain, women with the education and skills our state needs to sustain long-term economic health and growth.
Since the passage of the Equal Pay Act in 1963, 49 years ago, the gap has been decreasing at a rate of less than half a cent per year. At this current pace it will take another 60 years for Utah women to make the same as Utah men.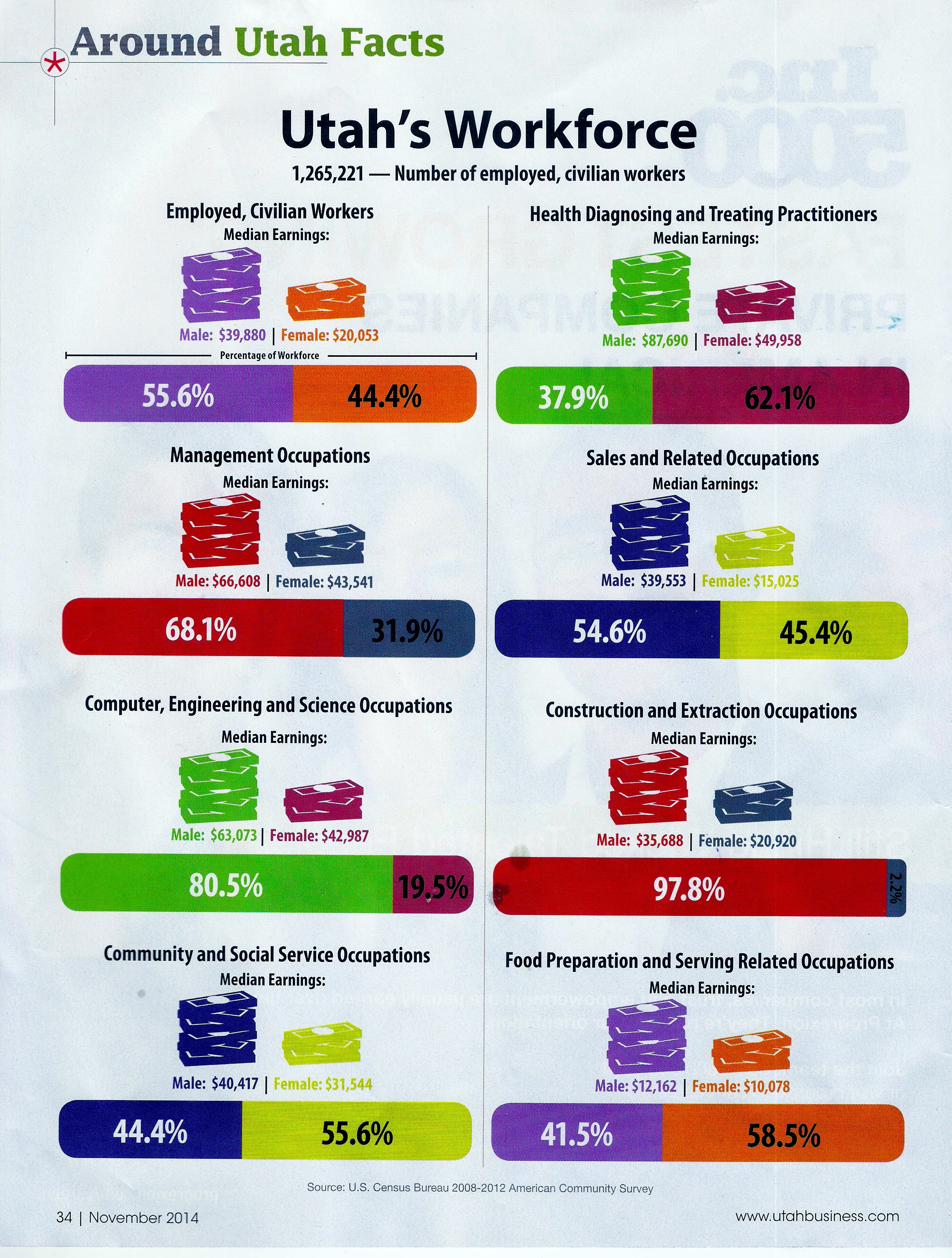 Equal pay for equal work crossed the racial line generations ago. Why has it been so hard for it to cross the gender line? Equal pay for equal work — particularly when it comes to raising the income of women — has a beneficial ripple effect for the community, through stable families and neighborhoods, and economy.
We can do better. Our working families deserve better. Our daughters, mothers, sisters, aunts and grandmothers deserve better. Our children deserve better. We need to encourage women to complete college as a priority and continue to demonstrate the difference of such an education over one's lifetime. Increasing the minimum wage and ending practices of salary secrecy, create and pass family leave policies, and increase child care support are a few easy steps to close the gap.
Utah should not be a stepping stone in a woman's career, where she stays long enough to get experience and then leaves another state for a job where gender income inequity is less, or non-existent. Utah should be a destination where a woman's hard work is recognized and rewarded with equal pay.