While Colorado leads the nation with 41% of that state's 100-seat legislature comprised of women, Utah's state legislature has only 18 women elected to its 104 seats, and nationally ranks near the bottom at 43rd with 17%. An anomaly among western states, Utah is bucking the trend of female leadership in the political process. The last time Utah had federal representation of a women in Washington DC was in 1997 with Representative Karen Shepherd.
In both states and across the country, women represent 50% of the population, yet are severely underrepresented in elected office. Nationwide women represent less than 24% of state legislatures. With only 9.4% (16 of 170 seats) of women in elected state office, South Carolina is dead last in the country.
All politics are local
Community-based groups such as parent-teacher organizations, and church and civic groups are overwhelmingly led by women. Women tend to focus locally on solving problems be it building a new sidewalk or playground, raising money for after school programs or ensuring zoning ordinances are enforced. They get in, get it done and get out. With the welfare of most communities in the hands of women, why not consider putting the welfare of our states and our country in the hands of more women?
Women hold 70 of the 435 seats in the US Congress, just slightly more than 16%. A mere 17 women hold one of 100 seats in the US Senate. Since the establishment of the US Senate as a legislative body in 1789, there have been only 39 women elected to serve.
According to The Hickley Institute of Politics at the University of Utah and Dan Jones & Associates, while Utah women vote in greater numbers than men, only 25% of the GOP delegates and 45% of the democratic delegates are women. Right now only two of the 23 declared candidates for Utah's four congressional races and one senate race are women.
Women voters are typically key to winning races in both Colorado and Utah. Candidates nationally are always courting the female vote. So why are we not courting the female candidate?
Women have long been underrepresented in elected office and political leadership. The current trend worries Katie Groke-Ellis, the Rocky Mountain Regional Director for The White House Project, a non-partisan group devoted to reversing the trend and bringing a woman to the Oval Office. "We have hit a plateau and are starting to lose ground," she said.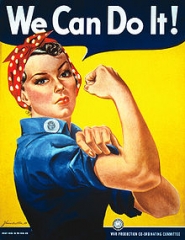 During the 1970's women gained ground on the national level. But in 2010, women lost representation. Currently, there are 12 women running for congressional and senate seats nationwide. If these candidates do not win, we will go backwards in terms of representation, Groke-Ellis remarked at "Real Women Run—Find Your Voice", an all day boot camp for Utah women leaders interested in politics on Jan. 14, 2012.

The initiative, sponsored by The Hinckley Institute of Politics, YWCA Salt Lake City and Vision 2020, is intended to empower women to participate fully in public life and leadership through elected political office at all levels, political appointments, working on campaigns, or simply learning more about the political system.
Why women don't run
The reasons women don't run in the numbers men do are varied and entrenched. "They are not asked to run. They are not on the short-list when there's an opening," remarked Groke-Ellis.
Women don't run for office because we do not think it is a necessity. The public perception is women are out there running for office and there is no equality problem. Just because Hillary, Michele and Sarah did it, does not demonstrate that there are enough women running. Statistics show that women win elections at the same rate as men, but actually few run.
Women have families. Yeah, so do men. This is not an excuse. This is the excuse men give for women not running. Women and men can do it with children.
It is hard to win an incumbent seat. This is the year to do it based on census and open seats.
According to a New York Times article, men wake up and say "I can be President." Women say and believe they need to be an expert before running. Every president to date has shown us, you will learn along the way, you do not need to know everything.
Data shows that men tend to run for the title and women tend to run to solve a problem. Think about the issues that are important to your neighbor, your school district, your community and your country. It is easier to leave politics to someone else. If you don't run, who will?
While few people truly enjoy fundraising, money is not one of the leading reasons women don't run. But it is one of the challenges.
Gender stereotypes still play a role in the decision women make to run. Both male and female voters are much more judgmental about the appearance and style of a female candidate than of a male candidate. Although all candidates are judged to some degree on these attributes, women face greater challenges in convincing voters to judge them on their experiences and merits rather than on their looks.
The media perpetuates these stereotypes. Deedee Corradini, former mayor of Salt Lake City joked Saturday, "We must be making some progress, because people are now talking about Mitt Romeny's hair."
In sharp contrast to the long fight for women's suffrage nationally, the vote came to Utah women in 1870, 50 years before the 19th Amendment was ratified giving women the full right to vote in federal elections.
The Rutgers University Center for American Women in Politics reports on a global level, the US ranks 71st in the number of women elected to office—behind Greece, Kazakhstan, and Venezuela. Rwanda leads the world.
Great Britain and Germany–two of the three most important nations in the European Union–have had women leaders (Thatcher and Merkel, respectively). According to Organization for Security and Cooperation in Europe (OSCE), member European nations average 22.3% with respect to women political representation.
If not now, when?
With only 11% of Americans approving of how Congress is handling its job, according to a new CNN/ORC International poll released Monday, it is time for women to get into the political game and get it done.
In field after field it has been demonstrated that women bring an additional and valuable perspective to the table.
Prominent research groups, including the center for American Women and Politics at Rutgers University, The Women & Politics Institute at American University, Catalyst and Harvard Business Review have long studied and noted "that women tend to include diverse viewpoints in decision making, have a broader conception of public policy, and are also more likely to work through differences to form coalitions, complete objectives, and bring disenfranchised communities to the table."
"In short, ensuring that women move into leadership alongside men is not a women's issue, nor is it a trivial concern compared with the massive problems we face on a national and global scale. Increasing women's leadership is an imperative. Advancing women serves us all — men and women, businesses and institutions alike."
The White House Projects reports that "the public currently believes that women — even more than men — have what it takes to be leaders in today's world, according to a 2008 Pew Research Center study. In that study, the public rated women above men in five of the eight character traits they value highly in their leaders (honesty, intelligence, creativity, outgoingness, compassion) and equal to men in two others (hardworking, ambition). Men rated higher (by 10% more respondents) in only one trait— decisiveness. Overall 69 % of those surveyed thought women and men would make equally good leaders."
Ensuring that November 6, 2012, election day, is positive at the polls, for women and for our country, please consider running for elected office. RUN—it is not to late. The filling deadlines for most states is mid march. Check the Federal Election Commission website to be sure.
If not you, than who?
There is never a "good time" and we will all come up with a million excuses. Now is the time to make your voice heard. Now is the time to get in the race.