"Winning isn't everything. It is the only thing." Vince Lombardi
They are a different team, but had the same goal, the FIFA Women's World Cup Title. Inspired by, growing up and playing in the shadows of the 1999 U.S. Women's World Cup Championship team, the 21-member 2011 U.S. squad wanted to create their own championship legacy. They wanted to be judged for their own play and in the current moment, their moment.
The US team finished second, falling short of winning it all. And now they and all those who want to be and play like Abby, Hope, Alex, Carli, Megan, Shannon, Christine, Heather, Rachel, Lauren and Tobin will have to wait four years until the US Women's National Soccer Team has another chance to compete for the world title. In less than 48 hours, the American loss and Japanese victory has been eulogized every way possible. And we are all better for it.
Poetic Justice or Powerful Playing
On the 12th anniversary of the 1999 championship game, this US team determined and confident, defeated Brazil in a poetic penalty shootout and earned a trip to the final. The goal remained steadfast. Hope Solo, the indomitable and beautiful goalkeeper, reiterated it on Sunday morning interview on CNN,
"We're not surprised where we stand right now. We came into this tournament with one goal. It wasn't to beat Brazil in the quarterfinal; it wasn't to make it to the final. It was to win the whole thing."
The opponent, Japan. A small, skilled, and powerful team far less experienced and physically imposing than the Americans. On their road to the title match, Japan beat Germany, the two-time defending champion and the much touted Swedish team. It was no fluke. Japan came from behind twice to tie the title game. After 90 minutes of regulation play and 30 minutes of overtime, they stunned the US in the penalty kicks, 3-1, to win their first World Cup in their first trip to the finals.
A Year to Remember
For the island nation, 2011 has been a devastating year. An earthquake, tsunami and nuclear reactor meltdown affected hundreds of thousands of its citizens, to include Homare Sawi, the 32 year-old midfielder playing in her fifth world cup. Sawi was the tournament' s top scorer with five goals, and added the Player of the Tournament award to her Golden Boot.
The Japanese squad had never played in a World Cup or Olympic final nor had they ever beaten the U.S. women. In fact, they were 0-22-3 having been outscored and overwhelmed by the US squad 77-13. But this is the team that is world champion and hoisted the 2011 FIFA World Cup trophy.
We knew that what we were doing here could be about a little more than just a football tournament," Sawa said. "If winning this makes one person, someone who lost something or someone or was hurt or damaged by the events that touched our country, feel better for even one moment, then we have really achieved a most special thing.

"If it makes everyone happy and joyful and gives them a reason to cheer after such difficult times, then we have been successful.

"Japan has been hurt and so many lives have been affected. We cannot change that but Japan is coming back and this was our chance to represent our nation and show that we never stop working. This is like a dream to us and we hope our country shares it with us."
Faster, Higher, Stronger
In the course the three-week tournament, I provoked a few conversations as to why men don't watch women sports. On Facebook, the blogosphere and in person, the reasons ran the gamut from the level and quality of play and athleticism to the appeal of the players. One friend commented
"Men like gladiators who are the biggest, fastest, strongest, and meanest. Speaking strictly for myself, I cannot watch the WNBA, for example, because women–despite their tremendous skills– can't be the biggest, strongest, fastest, and dunking-est."
Another wrote,
"Women tend to play fringe sports, with the exception of basketball. American dudes barely watch soccer in the first place. Understanding the gladiator factor, if we barely watch soccer, why then would we want to watch soccer played by those who aren't the biggest, fastest, strongest, and meanest? I'll watch the USA women's soccer team during the World Cup if and only if they make a run, not because it's soccer, but because I always cheer for the USA. Every four years, we may watch women's gymnastics, though. Why? Our ladies watch it, and it is different from men's gymnastics, and there is a bit of the cute-factor. Guys are suckers for leotards."
Other comments about women being the fairer sex or which women sports were likely to have wardrobe malfunctions ensued. Nearly all my friends remarked on beach volleyball. But who doesn't like to watch beach volleyball, male or female.
As the three-week tournament progressed, the conversation changed. The level of play improved. The intensity grew. The resolve strengthened. And the interest of my male friends increased. One commented, "I have to say the game is fast and they are playing hard nose soccer, especially the US women. I'm seeing elbows and knees flying all over the place."
From Brooklyn and Boston to Berlin, friends of mine, many male friends started and continued to watch. And they cheered. A fellow author viewed in the game in an American Legion post in Brooklyn. When he arrived most patrons were more interested in watching the sluggers of the Yankees than the strikers on a field in Frankfurt. But as the game progressed and he explained the sport and strategy of soccer, they began to see the skill. The group of war veterans from World War II to present did what many Americans did. They got interested and excited. They cheered for their team, our team, and our country. And then they let out a collective sigh.
A friend came home from work, to find her burly boyfriend and two male friends, the diehard NFL Sunday Football types, seated on the edge of the coach in front of the television yelling and cheering. They too let out a collective sigh as Japan won the game on penalty kicks.
Wearing Women's Team Jersey's
Several friends tried to purchase women's team jerseys emblazoned with players name. One wrote
"I have been trying to buy my daughter an Abby Wambach jersey for about two months. Unbelievably, even the US National Team's website does not sell "youth" sizes, only adults. Fathers would definitely buy jerseys for their daughters; unfortunately, even the team doesn't sell little girl sizes. It seems almost impossibly stupid. I have my three boys running around in different soccer jerseys, and I can't buy one for my daughter because none of the teams sell them. I don't get it."
And it is not just fathers of little girls. It's fathers of all ages. My author friend wanted a Solo jersey and could not find one.
The Pressure Continues
Nike created a provocative and powerful commercial "Pressure Makes Us" during the tournament. It spoke of the legends of the 1999 team, the thousands of little girls looking up to them, the expectations of the team and handling of the pressure.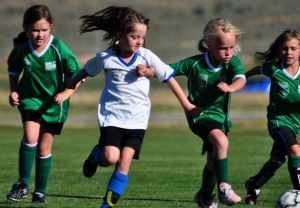 The pressure is still on, ladies. You are now the legends: The role models that thousands of girls and boys now want to be like. This morning, I heard a young boy at my daughter's camp saying he "wanted to be able to head the ball just like Abby Wambach."

The level of play and sportsmanship were awesome. We didn't see the whining and the field drama often characterized in the men's game. We did not see the meltdown of a team as we witnessed in the 2010 FIFA Men's World Cup and the French national team.

The US team also demonstrated how to lose graciously and gracefully. Abby was quoted throughout the tournament saying that she had watched previous champions stand on the podium and hoist the trophy as confetti rained down. And she wanted to be on that platform, not watch it.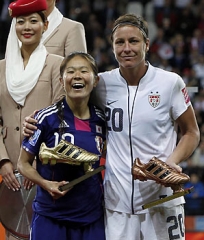 In her post game interview, Wambach, whose header four days prior kept the Americans' World Cup goal alive said,
"I'm sure their country is very proud of them. It's obviously heartbreaking. Japan played well; they never gave up. Evidently it wasn't meant to be. We worked so hard. We believed in each other through everything. This is going to hurt for a while but I'm proud of our team. We never gave up."
What more and more Americans came to learn is that soccer is a beautiful sport played by top conditioned athletes with guts, determination, hearts, skill, strength, speed, power and tears, regardless of gender.
Japan's win and the US's loss revealed just how far in such a short period of time the international women's game has developed—and has inspired us to try a little harder, to run a little further and faster and to end every practice with 10 more penalty kicks.
Rising Sun
Disappointment aside, it is hard not be happy for Japan. The team walked onto the field with a giant banner "To our friends around the world, thank you for your support". For this morning the nation awoke to a brilliant sunrise and hopefully a seismic shift in hope.
And in losing, the US team won. They won many new fans that have given the players American Idol status. ESPN reported with nearly 13.5 million viewers, "it was the sixth most watched soccer telecast ever in the United States." And the most viewed women's sporting event in ESPN's history.
Social Media Sensation
Before the final match on Sunday, President Obama tweeted his support:
"Sorry I can't be there to see you play, but I'll be cheering for you on from here. Let's go.–BO".
Georgina Turner of Sports Illustrated reported "Goalkeeper Hope Solo's Twitter following jumped from around 10,000 just before the tournament to over 100,000 prior to the final, with others on the U.S. team making similar strides. The final itself set a record for tweets per second, eclipsing the wedding of Prince William and Kate and the death of Osama bin Laden, and drawing an astounding 7,196 tweets per second."
In losing the US and Japanese teams captured our eyes, hearts and minds. In losing they won. And winning is everything.
When the game ended and Japan stormed the field, my seven-year old daughter began to cry. With a hug, I shared and modified the immortal words of Jimmy Dugan, manager of the Rockford Peaches, "There is no crying in baseball" or soccer.