The month of June provided a myriad of exciting championships for athletes and sports fans. The Dallas Mavericks beat the Miami Heat to win the NBA Championship, the Boston Bruins handily defeated the Vancouver Canucks, on Canadian ice in game 7, to bring Lord Stanley's Cup to Beantown, and Rory McIIroy walked onto the Congressional Golf Course in Maryland and won a momentous and memorable US Open Championship. Winning by 8 strokes, McIIroy shattered numerous records and endeared the hearts of fans worldwide.
The Cup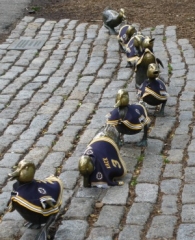 In Boston, on the days of games 6 and 7 of the Stanley Cup final, my seven year-old daughter and I saw countless hockey fans and proud Bostonians modeling Bruin logoed apparel and waving flags and placards. The entire city railed behind the Bruins. A "Let's Go Bruins banner" adorned the Massachusetts State Capital on Beacon Hill. The Boston Public Gardens iconic statues of General George Washington and Robert McCloskey's ducks — Mrs. Mallard and her eight ducklings–sported Bruins jerseys with their names emblazoned on the back. The ducks were immortalized in his 1941 award-winning children's book Make Way for the Ducklings.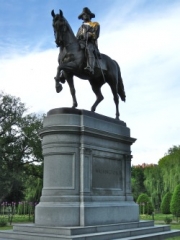 Among the die-hard fans were many women with finger and toenails painted black and gold. And there were plenty who smeared face paint and hair dye enthusiastically cheering their team to victory. We too got into the championship frenzy picking up numerous Bruins placards with the words "We Want the Cup" and "There Can 'B' Only One" and posing in front of various landmarks along Boston's Freedom Trail.

After the win, together we watched on television, more than one million Bruins fans line the two-mile stretch from the TD Garden, the Bruins home ice, to Copley Square for the championship parade to congratulate their team and perhaps touch the cup. Children were everywhere. This team has inspired a new generation to take to the ice.

The following day we watched Rory McIIroy's win for the ages. On Monday morning, as I read several articles that lauded this young Irishman's skill and focus, I thought about the last time my daughter and I watched a women's athletic event together. We both play several sports, but are rarely spectators to such games.

The last time was back in April when Texas A&M women's basketball team defeated Notre Dame 76-70 earning the school their first NCAA Championship.
What is broadcast
So just why is it that we watch men's sports more than women's? Is it because they are not broadcast as much? Is it that they are not as exciting? Are there not as many events showcasing women athletes (for instance no female pro baseball or football or hockey)?
The Wimbledon fortnight is underway and the LPGA Championship is being contested. Serena and Venus Williams have won 4 and 5 Wimbledon titles respectively. With 23 career Grand Slams, Serena has become one of the tennis' greatest all-time players. Venus, her older sister, owns 21 Grand Slam titles, more than any other active female player, except for Serena. We have yet to tune into these two competitions.
Women's professional basketball, soccer, and golf are struggling. In her article "Twelve years later, still the best" ESPN.com's Johnette Howard wrote about the U.S. team that won the 1999 Women's World Cup. She wrote:
The U.S. women's sports movement seems to have fizzled since they moved along, which feels bittersweet. The '99 World Cup and '96 Atlanta Olympics (the so-called Gender Equity Games) were supposed to be a liftoff point to a ceiling-less future — more women's pro leagues, more exposure, more of everything for women across the sports spectrum. But instead, that time now feels like it was the best it might ever get, at least for a while. The LPGA golf tour is shrinking. The WNBA is limping along in its 15th year with yet another new commissioner. The women's tennis tour seems to obsess annually over two questions: "How are the Williams sisters doing?" and, if Venus and Serena are on one of there frequent hiatuses, "How long before they're back?"

The first stab at a U.S. women's pro soccer league tore through $100 million in three years and folded. The latest try, Women's Professional Soccer (WPS), is fighting to hang on.
The 1999 US Soccer Team was the first women's professional sports team to capture American hearts and imagination. This group of talented athletes included many whom had played together for more than a decade. In dramatic fashion in front of 90,185 screaming and face-painted fans in Pasenda, CA, the US beat China 5-4 in the penalty shoot out. It was the largest crowd to ever witness a women's athletic competition.
The Naked Truth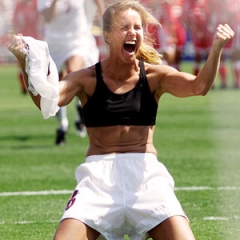 Upon scoring the winning goal in this international competition, an exuberant midfielder Brandi Chastin ripped off her jersey, fell to her knees, and with clenched fists raised her arms in victory. The moment was captured in every major paper and the cover of Sports Illustrated. In that celebratory moment, an adrenaline pumped athlete at the pinnacle of her sport, revealed a ripped body and a six-pack of abdominal muscles. It is one of the most iconic photos in all of sports. And it ignited a controversy about just how much she revealed.

Women jog in sports bras everyday. Still people made a big deal out of nothing. This is what winning soccer players do (or did until after FIFA made it a yellow card penalty in July 2007). It was not the first time Chastin had disrobed. But it was the first time for many people to see because most people do not follow women' sports. Chastin's sports bra covered more than most bathing suits we would see at the beach…or a beach volleyball tournament.

Time and Newsweek put this U.S. team on their covers. Some journalists declared them the pop culture story of the year. Across the nation, young girls took to the fields kicking balls and wanting to be like Mia Hamm, Michelle Akers, Kristin Lilly, Julie Foudy, Brandi Chastain, Briana Scurry, Carla Overbeck and Joy Fawcett.
Watch a Game
On Sunday Jun 26, the 2011 FIFA Women's World Cup commences in Germany. As expected, the quadrennial event is getting little media coverage in the States. USA Today ran a page length article on the back cover of its sports section on June 23. Friday's Wall Street Journal published, "It's Germany's Cup to Lose" and ESPN has aired a few commercials in between the NBA draft.
During two weeks, I encourage you to take the time to watch a few of the women's world cup games with your daughters and sons. ESPN and ESPN2 are broadcasting the games.
If our women's team wins the World Cup again, that might give another professional soccer a boost. But, it's going to be tough. One big problem is while women have no problem wearing replica jerseys of male pro athletes, men have a problem wearing the jersey of a top-flight female pro athlete.