At the base of the Green Mountains is an institution like no other in the United States. In the quaint town of Northfield, Vermont sits Norwich University, the country's oldest private military college. Few American institutions of higher learning as old as it still adhere to the principles of its founders. In a very substantial sense, Norwich today is the lengthened shadow of its founder, Captain Alden Partridge whose philosophy continues to guide Norwich in its 175th year. "We are here to serve this great nation and educate students who will become leaders in business, government, and the military in order to advance the causes of the Republic, ensure its continued freedom, and develop the economic, political, and social infrastructure of this new century."
From Norwich's heart run two leadership arteries—a traditional college course or the military college course. Students, whether members of the Corps of Cadets or civilians are challenged with daily leadership experiences and a balanced and rigorous liberal arts education that allows them to analyze, reflect, develop, act and execute.
In keeping with tradition of a liberal education, Norwich is the home and host of the Colby Military Writers Symposium. An event that brightens a few gray and gloomy March days each year. This year's authors included a spectrum of personal and military experiences, writing styles and genres. Staying at The Northfield Inn, a historic turn-of-the-century mansion, once occupied by a princess, but now a charming bed & breakfast… the common thread we discovered is the desire we share to tell the story of our Nation's military and public servants.
Founded in 1996 by W.E.B. Griffin, Ambassador William E. Colby and Carlo D' Este, uber military historian, the three designed the residency event to bring influential writers to the campus. True to its original charter, D'Este described its purpose,
"to expose Norwich students, faculty, alumni and the public to the works and views of authors, historians, journalists, and national figures. It should educate, enlighten and inspire."
This year was no different with the campus a flurry of activity last week of March.
In the 16 years of the symposium, more than 80 military writers have journeyed to this intimate campus. D' Este remarked, "The Colby is not just unique, but the only program of its kind in existence at an American university."
This year's authors included a spectrum of personal and military experiences, writing styles and genres. The common thread is the desire each author shares to tell the story of our Nation's military and public servants.
Participating in the 2011 Symposium were: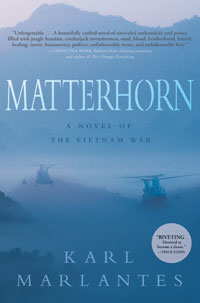 Karl Marlantes, author of Matterhorn: A Novel of the Vietnam War
. Marlantes, a graduate of Yale University and a Rhodes Scholar at Oxford University, served as a Marine in Vietnam. Highly decorated, he was awarded the Navy Cross, the Bronze Star, two Navy Commendation Medals for valor, two Purple Hearts, and 10 air medals. But you would never know of these awards; the past has too many ghosts present. In his debut novel written over the course of 30 years, he tells the story of the human condition with all its flaws and frailties through the eyes and lives of young men in combat.
"Matterhorn is a powerful first work that defines the tragic cost of the Vietnam War in human terms," said Colby co-founder and New York Times bestselling author W.E.B. Griffin. "Marlantes' breakneck writing style is both passionate and haunting, thrusting the reader into alternating moments of chaos and courage reflecting the fragility of our Marines on the ground—and their leadership—in combat."
Matterhorn is the 2011 Colby Award Winner. The Colby Award recognizes a first work of fiction or non-fiction that has made a significant contribution to the public's understanding of intelligence operations, military history, or international affairs.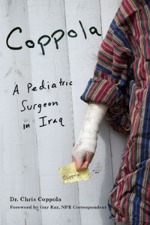 Dr. Christopher Coppola, MD, author of Coppola: A Pediatric Surgeon in Iraq
, is a graduate of Brown University and John Hopkins Medical School. In the Air Force Reserve, he deployed to Iraq in 2005 and 2007 where he served as a pediatric surgeon. In this deeply moving memoir, Chris shares the grim and horrifying reality of war and its devastation. Most disturbingly on children.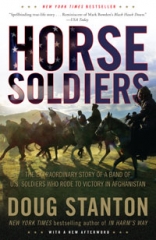 Doug Stanton is the author of two New York Times bestsellers In Harm's Way: The Sinking of the U.S.S. Indianapolis and the Extraordinary Story of Its Survivors
and Horse Soldiers: The Extraordinary Story of a Band of US Soldiers Who Rode to Victory in Afghanistan
.

Jack Segal is a US Army Vietnam veteran and career US diplomat with the State Department including service as the National Security Council director for Russia and Eurasia. He also served more than a decade with NATO including working as a foreign policy advisor to NATO's Afghanistan commanders. Currently he is a Visiting Distinguished Fellow at the National Defense University.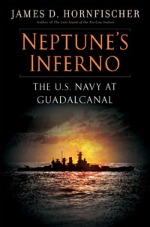 The theme of this year's Colby was "An Uncertain Future in Afghanistan: Assessing the Conflict Ten Years On". This public panel discussion was moderated by James Hornfischer the author of three works of naval history. They are The Last Stand of the Tin Can Sailors: The Extraordinary World War II Story of the U.S. Navy's Finest Hour
, Ship of Ghosts: The Story of the USS Houston, FDR's Legendary Lost Cruiser, and the Epic Saga of her Survivors
, and Neptune's Inferno: The U.S. Navy at Guadalcanal
, (2011) a major new account of the Guadalcanal naval campaign in WWII.
As a participant myself, I felt as if I was engaged in a modern day military Algonquin Round Table. It was engaging, educational, exciting, exhilarating and exhausting three days. The camaraderie we authors shared with others there impacted me profoundly. To quote Chris Coppola, "I was saddened to leave, as if I was parting with old friends."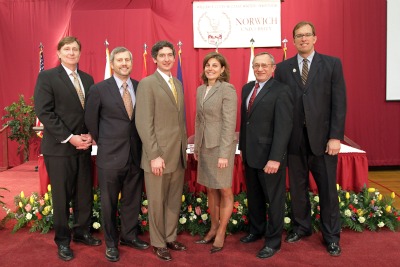 We know many leaders, icons, history makers, star athletes and celebrities—they are always visible. We don't always know about those that quietly serve our Nation—the servicewomen and men past and present. As authors and advocates, our goal is to change that and share stories of their honorable service and sacrifice.
The past sometimes entertains us—but it always shapes and forms us. What makes us strong lives in our past as represented by the citizens who serve in our military. That legacy provides fuel for our future. Understanding the glories and inequities of American history helps us learn who we are and who we need to be.
What are your recommended reads about the US military?