This week I witnessed something I hope my own daughter will see one day—a sea of women in military uniform. More than 1,300 U.S. servicewomen, and a few servicemen, gathered in San Diego, CA this week for the 24th Annual Joint Women's Leadership Symposium.
The two-day event centered on leadership and professional development.
Focusing on the achievements of women on the frontlines worldwide and the role of women involvement in building global security and stability, Melanne Verveer, the U.S. ambassador-at-large for global women's issues remarked that the symposium's theme of "Connect, Empower, Succeed," Is applicable to women worldwide.
"Women everywhere are taking courageous steps, they are making a difference and they are responding to their circumstances," she said. "Like all of you, women in the U.S. military are doing enormous work for peace and security around the globe." She highlighted the pioneering work of U.S. Marine Female Engagement Teams (FETS) in Afghanistan as a force multiplier able to engage and interact with both Afghan women and men in a way not possible for male soldiers.
"In a military campaign where the perception of the population is so crucial, the role these female engagement teams play is innovative, effective and nothing less than critical."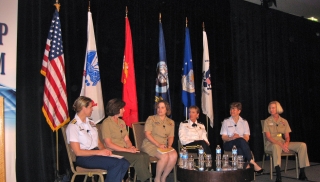 Vice Admiral Carol Pottenger was one of the many flag officers in attendance and speaking. Pottenger, a true pioneer for women selected for sea duty, is the first Woman Surface Warfare Officer to achieve three-star rank. She currently serves at NATO Headquarters as the DCS for Capability and Development.

Inspired by the Past, Focused on the Future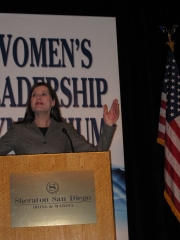 Various accomplished civilian and military senior leaders addressed the symposium participants and spoke on the role women play in the defense of the U.S. They included: award-winning actor Ms. Geena Davis, Ms. Tammy Duckworth, Assistant Secretary for Public and Intergovernmental Affairs in the U.S. Department of Veterans Affairs, Marine Lt. Col. Julie Nethercot, Commanding Officer, 9th Communication Battalion and leader of the FETs, Coast Guard Rear Adm. Sandra Stosz, selected to become the Superintendent of the U.S. Coast Guard Academy. U.S. Navy Master Chief Petty Officer Rick D. West, Adm. Robert Papp, Commandant of the U.S. Coast Guard, and Lt. Gen. Dennis Hejlik and Sgt. Major Greg Grizzle from U.S. Marine Corps Forces Command.

Among the Air Force speakers at the event were Lt. Gen. Susan Helms, a former astronaut and the first U.S. military woman to fly in space, and Lt. Gen. Janet Wolfenbarger, the vice commander of Air Force Materiel Command and the highest ranking female in the Air Force.

The second day of the conference was devoted to service specific breakout sessions for interacting and networking with leaders and colleagues on everything from opportunities, career progression, wellness and deployments to work-life balance.

With palpable excitement and energy, many women commented about the great opportunity to come together, talk about their responsibilities, their unit missions and their challenges.
It's About Talent
Navy Vice Admiral Mark Ferguson, Chief of Naval Personnel said, "With more than 57% of undergraduate and technical degrees being awarded to women, discussing and understanding the perspective of women in the military is an issue of talent management—recruitment and retention."
Established in 1978, the Sea Service Leadership Association (SSLA) is the only organization in the United States dedicated to providing professional development through networking, education, and mentorship of women in our Maritime Forces—the United States Navy, Marine Corps, and Coast Guard. This year, the Air Force became a participating partner. Notably absent except for a handful of soldiers, was the Army.
This symposium provides a venue where women who are normally in the minority at their duty station have the freedom to express concerns of all service members be it childcare, career progression or deployment cycles. Participants were encouraged to network with leaders and peers and bring the knowledge gained from this forum back to their own commands and duty stations, and to share it with colleagues and friends.
Commenting on the mantra of "Connect, Empower, Succeed." Navy Lt. Cmdr. Nicole Shue, President of SSLA and currently the Legislative Advisor to U.S. Central Command said, "When we work toward a common goal, women's progress in the military and throughout the world continues to grow and become more significant."
Shue shared that women are part of the global force for good. "Be it in humanitarian assistance, on ships at sea, boots on the ground, or planes in the air, we need to show how we fit into the larger mission. As U.S. servicewomen, we are role models and have something to contribute to women around the world—like interacting with Iraqi and Afghanistan women. By our presence and example we help women worldwide—we are contributing." Next week Shue will transfer from Washington D.C. back to San Diego to become prospective Executive Officer of the U.S.S Higgins.
While women's status and role in our military has come a long way, there is still more to do. Shue concluded by saying that "the issue is no longer whether the military can accomplish the mission with women in the ranks; it's that it cannot be done without them."
The women who serve in our military are a true tidal energy that carries with it positive impact everywhere they serve. From sea to shining sea these are the type of women I want my daughter to know about and I'd love to hear her say one day, "When I grow up I want to be like her!"