The United States has been engaged in combat in Afghanistan longer than in any previous war. As a Nation at war for more than nine years, women are serving in new roles and in larger numbers than previous battles. More than 220,000 women have been deployed, nearly 12 percent of the force. Similar to their male contemporaries, women are demonstrating selfless service, courage and dedication to the mission.
With increasing numbers of women returning from the war zone, these veterans are of great interest to the mainstream media. Three of the hot topics regarding these service members are women in combat, sexual assault, and post traumatic stress disorder (PTSD). All deserve attention, broad perspective and action.
The increased coverage of veterans and issues is critical as it brings attention to the responsibility and care our veterans deserve. However, it can be a double-edge sword, particularly for women. There is a tendency to want to find victims and parade them on the evening news or in print with a sensational headline or story. The story of a young Army private taken as prisoner of war and rescued on prime time television comes to mind.
This past weekend a story entitled "For Female Marines, Tea Comes with Bullets" ran in the New York Times. This piece did highlight mission and employment of Female Engagement Teams (FETs) in Afghanistan, but neglected to ask any of the members of these teams anything of tactical relevance. The focus was on their emotions rather than on their tactical competence and their duties.
Last week in Washington DC during its annual symposium, AcademyWomen sponsored a panel discussion on how writing and the influence of the media shape the perception of modern military women.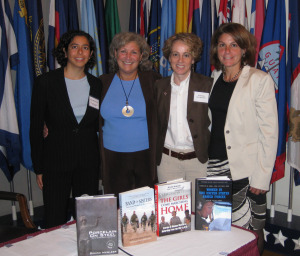 Along with authors Kirsten Holmstedt and Darlene Iskra, and panel moderator Anu Bhagwati, the executive director of Service Women's Action Network (SWAN), I share a passion for influencing how the public understands military women. The three of us have all contributed to telling the stories of military women. Unfortunately, several of the print journalists invited to participate, declined the invitation.
Each of us has received requests to share the stories of women veterans. Frequently those requests are to locate those returning combat veterans who have been raped or assaulted while serving in theater, who suffers from PTSD, or who is homeless. Why, because sex and violence sells.
We have approached this from a different perspective. Our goal is to give agency on valuable contributions of service and sacrifice of military women without categorizing them as naïve, ignorant or victim. It is important to understand the breadth of their roles and their effectiveness in our fighting force.
Women like men join the Armed Forces for a variety of reasons. Among them are: opportunity, education, and a desire to serve and be part of something larger than themselves.
It is time to stop debating whether women should be in combat. They are in combat and have been for nine years. Current Army Policy women bars women from being assigned to combat branches whose mission is "to engage in direct combat, or which collocate routinely with units assigned a direct combat mission." So instead women "accompany" various units whose mission is to engage an enemy.
Women are serving honorably and with distinction in all theatres. As authors it is our responsibility to ensure those stories of a triumphant and successful woman veteran are not written in invisible ink. There is no doubt that veterans face both obstacles and horrors. But so many have survived and grown as a result.
Kirsten Holmstead is the author of Band of Sisters: American Women at War in Iraq and The Girls Come Marching Home: Stories of Women Warriors Returning from the War in Iraq. For more than 20 years, Kirsten has worked as journalist, writing for newspapers, magazines business and academia.
Dr. Darlene Iskra is the author of Breaking through the Brass Ceiling and Women in the United States Armed Forces: A Guide to the Issues (Contemporary Military, Strategic, and Security Issues). Darlene is a retired US Navy Commander. She was one of the Navy's first women divers, and was the first woman to command a commissioned vessel.
Anu Bhagwati, the Executive Director of SWAN (Service Women's Action Network), is a Marine Corps veteran and was the second woman to complete the Marine Corps Martial Arts Program (MCMAP) Trainer School earning a black belt (with a red stripe for instructor trainer) and the qualification to certify other Marines to become intermediate level instructors.
We know of the many leaders, icons, history makers, star athletes and celebrities. We know less about those that serve our Nation and particularly that of servicewomen past and present. As authors and advocates our goal is to change that and share stories of honorable service and sacrifice, and empower our veterans.
Please share your contributions of important reads on women in the military.