This is the 19th installment in the Honored Role Series.
Like many, Angela Maria Lungu joined the Army to earn a college degree and did not anticipate serving past her initial five-year obligation or remotely consider the possibility of living and working overseas. The retired lieutenant colonel remarked, "I never thought I would stay in. I enjoyed the unusual assignments and challenges, and loved everywhere I went and before I knew it, 20 years passed."
Angela, a 1987 West Point graduate, has lived and worked in Latin and Central American and Germany. Early in her career, she looked to her international experience and language skills to differentiate herself both in and out of uniform.
Her interest in the Army piqued after an introduction to the Military Academy by her San Francisco High School guidance counselor. "I decided if I did not get into West Point I would enlist as I thought it was an interesting career," said Angela.
The daughter of an Italian father and German mother, Angela's parents were not keen on their daughter joining the military. "My mother is from a generation where proper women did not serve in the military but I thought it would be an interesting launching platform for my life."
A love of jumping
Although she had run track and cross-country in junior high and high school, Angela decided to try out for the skydiving team —stumbling into parachuting by attending a meeting of a club. Angela said, "I wanted to try something I had never considered." During the next four years she completed more than 850 jumps and became the team's co-captain her senior year.
"Parachuting was my reprieve from the demands of cadet and academic life. Thinking back to some of the required classes at West Point—Electrical Engineering, Calculus and the History of Military Art makes my toes curl. I spent a summer in the classroom."
Despite the academic challenges, Angela said at West Point she learned to approach things in a methodical manner and could do anything to which she put her mind. Her passion for trying new things grew and continued throughout her military career.
Army Engineering
Assigned to an Army Engineer Topographic detachment in the 20th Engineer Brigade based at Fort Bragg, North Carolina, Lt. Lungu employed her geography and computer mapping degree and her love of parachuting. She remarked, "The unit I joined was on jump status."
After serving as a topographic platoon leader, Angela joined the 1st Psychological (PSYOP) Operations Battalion. Her unit maintained regional responsibility for Latin and Central America. She developed fluency in Spanish, which increased her language skills beyond the Italian and German she had spoken as a child.
Angela described her assignments and experiences as unusual. "In PSYOP's most of my work was with US Embassies." The work took her to Venezuela, Ecuador, Columbia, Uruguay and Guatemala. (She remarked that she even did a few parachute jumps with then Col. Hugh Chavez Venezuelan Army Brigade.) As the US Special Operations representative at various embassies, she worked with the host nation military and police forces on various counter-insurgency and counter-drug objectives and campaigns. Angela described the work:
"This was a new field. The work was unconventional and little was written governing operations. We were able to lay the groundwork to persuade, influence, and convince foreign audiences to take various courses of action. We worked with the wave of democratization in Latin and Central America, where we were not only creating, but writing the doctrine for psychological operations."
Angela later became the primary author of Army Field Manual 3-05.30, Psychological Operations. She has published several articles on cyber warfare and the expansion of psychological operations to include the internet in waging online. "War.com: The Internet and Psychological Operations" appeared in the Joint Forces Quarterly Journal.
While the work with US Embassies and host nations was unique and exciting, it created an issue for Angela when she became a company commander in a combat engineer battalion. "Everyone else had construction or tactical engineering experiences on which to rely. I had to use other experiences and bring new approaches to the company."
As a senior captain she became the first woman to command a company in a combat engineer battalion. She explained that once her soldiers realized she was serious about training and readiness and not interested in notoriety, they appreciated her varied experience and new approach to training. She said, "I did not want my time in command to turn into a circus, so I turned down numerous interviews and meetings." Six months later, Congress approved the assignment of women to combat engineer companies.
Angela used her parachute jumpmaster background and professional network to develop a unique training program for air operations and sling loading of engineer equipment with a nearby Air Force Base who needed equipment and units to help them train. She created an opportunity for her company to participate in a nation building exercise in Latin America.
Following a successful company command, Maj. Lungu became a student at the Naval Post Graduate School earning her first masters degree in defense analysis and irregular warfare. She also met fellow student and Romanian diplomat Sorin Lungu.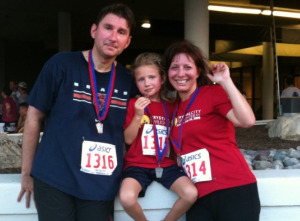 A Global Perspective Widens
After a brief courtship and graduation, the two married and moved to Germany when Angela accepted a position as Director of Public Works in Mannheim. Her responsibilities involved engineering, maintenance and repair of property on the base and provision of utilities and housing, and space utilization within the US military community in Mannheim. Her experiences working with civilian agencies and foreign militaries, and her multi-linguistic capability compensated for what she lacked in tactical knowledge. She said this is where trust and complimentary skills set of leaders and their teams come together. As the sole military officer in Public Works, she led a department with four Army civilians and nearly 300 German local nationals.
In 2003 while serving as the Deputy District Commander for the US Army Corps of Engineers, Angela and Sorin welcomed their daughter Giovanna Maria. Selected for battalion command, Lt. Col. Lungu turned down the opportunity twice believing the demands on her family too great. "We decided to delay starting a family until I neared military retirement as we wanted a stable environment and location."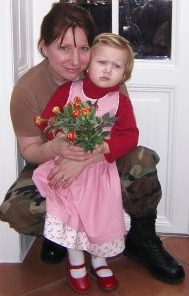 When Giovanna turned 5 and with 20 years of military service, Angela decided to retire. The Lungu's moved to Virginia where Sorin is an assistant professor in the Department of Military Strategy and Logistics at the National Defense University and Industrial College of Armed Forces.
New Opportunities
True to her own guiding principle of finding and jumping into interesting opportunities, Angela is the Director of Professional Services at Quantitative Software Management (QSM). Here she uses the skills she learned and employed in the Army every day. She explained,
"Psychological Operations (PSYOP) is about analyzing a situation, evaluating resources, creating new ways of doing things, and packaging and selling ideas. I learned this in the military and use that skill and experience every day in my business career to support our clients. The tools developed at QMS use statistical parametric analysis to support decision making in international engineering, analysis, and information operations and management."
Staying true to her own mantra of leaping into the unknown, Angela has not spent much time trying to figure out the perfect job. What she has learned is the importance of determining what she loves and keeping an open mind for opportunities that match to that love—and never to fear the unfamiliar. With more than 2400 parachute jumps, Angela intends to return to the sky when Giovanna turns 16 and takes her first leap.
If you would like to share your story or that of other veteran women, please contact me. contact me.