This is the 12th installment in the weekly Honored Role Series.
Just as good steel is forged from hot fire, strong leaders are developed by challenge. Such is the path Teresa Hougnon took in her journey to serving others. While she felt compelled to enter religious life from an early age, she did not have any mentors or role models who had pursued that path. As a substitute environment in which she knew she could serve others, West Point seemed a viable choice. When she entered West Point as a plebe in 1980, she felt she had closed the door on religious life.
After serving in the seemingly disparate arenas of the U.S. Army in Germany, a youth development center in Brooklyn, and a women's shelter in New York, Sister Teresa is in Kenya as a Maryknoll Missioner. A group of Catholic Sisters who devote their lives in service overseas, the Maryknoll Sisters might be considered the antithesis of the armed forces. Yet Teresa is in her 15th year of service nearly three decades after she entered the gates of West Point. Despite the obvious conflicts of these two organizations' purposes, both require a commitment to selfless service and sacrifice.
On a prayer
Teresa was drawn to the service academies for their well-rounded education and options for the future. One of 11 siblings growing up in the Colorado, she wanted to pay her own way for college. Familiar with West Point because her older brother, Jim, graduated in 1972, Teresa knew little of his experience and him; Jim entered West Point when Teresa was only 6 years old. Teresa prayed for guidance in her college decision. A few days later she received her appointment to West Point.
Opening a door
Entering West Point, Teresa felt she closed the door on religious life. She was pleasantly surprised to find a vibrant Catholic community. Before summer training ended, Teresa volunteered to teach religious education and attended mass twice weekly. She finally met some religious women at Holy Trinity Parish.
Desiring to leave the Military Academy and become a nun, Teresa sought guidance from Sister Theresa Lardner, the Director of Religious Education at Holy Trinity. She warned Teresa against making hasty decisions during the stressful plebe year. Later that year, Teresa met Sisters Connie Koch and Sharon Yount from the Newburgh Dominican community, and they formed a friendship.
Teresa recalled struggling through most of military training, physically and morally. She began reading Mahatmas Gandhi. "Non-violence spoke to my heart, but it contradicted everything I was doing at the time, so I put it in the back of my mind." she said.
Teresa attended Airborne School, the Army's parachuting course, and barely met minimum pull-up requirements. Foreseeing imminent failure, Teresa warned her leading officer of her impending failure. He told her not to give up and use her faith to believe in miracles. She completed the required number of pull-ups, and received her airborne wings after completing five jumps. "I jumped out of an airplane into the unknown. When the parachute filled with air, my life continued in a new way."
Graduating in 1984, Lieutenant Teresa Hougnon served in Germany as an Ordnance Missile Management Officer. Conflicted morally about the Army's mission, Teresa wanted to pursue another life. "I believed there had to be better ways to resolve conflict than using violence," Teresa shared.
She returned to the United States, volunteering in diverse service-related missions including a state prison, parish school, youth development center and shelter for homeless women and children.
As the financial officer of Providence House, an organization providing group houses for homeless and formerly incarcerated women and their children, she worked with Sisters of St. Joseph and the Dominican sisters. "The women and children became my healers and taught me how to laugh again. It was here I began my discernment of my future," she explained. Although not called to either of the two religious communities, this experience did confirm Teresa's desire to help the poor and live among women of diverse cultures.
Teresa entered the Maryknoll community in 1996 with 5 other women: two Vietnamese-Americans, two Filipinas and a Korean. Based in Ossining, New York, the Maryknoll Mission headquarters is less than 20 miles south of West Point.
Among fire
Teresa chose to join Maryknoll sisters in East Timor, arriving in the village of Aileu on August 3,1999. Since declaring its independence from Portugal in 1975, East Timor had suffered civil conflict. Nine days after the declaration, Indonesian forces invaded and occupied the small Southeast Asian country incorporating it in July 1976 as the province of East Timor.
During the 24-year occupation and pacification campaign, an estimated 102,000 Timorese were killed in conflict or died from hunger and illness.
In an United Nations sponsored referendum, an overwhelming majority of the Timorese voted for independence from Indonesia on August 30, 1999.
Organized and supported by the Indonesian military, anti-independence Timorese militias proceed to burn the country destroying its infrastructure, forcing 300,000 people to flee into West Timor as refugees, and killing nearly 1,500 Timorese.
On September 7, 1999, Sister Teresa and her colleagues were evacuated to Australia. They learned their house had been burned a week later. International Forces brought an end to the violence on September 20, 1999 and forced the Indonesian Military out of the country.
The rebuilding process
In November, the Maryknoll sisters returned to Aileu to help the people rebuild. Everyone was traumatized.
"Having witnessed this struggle and having my own life threatened before leaving was a shock … I spent six months working through the events and resolving many things. Eventually, I found my airborne wings. East Timor was not the first time I had jumped into the unknown, and come out with new life. My experience from years before, that seemed so distant and irrelevant, was precisely what had prepared me for this time. In the midst of the conflict, I was so new to the country. I did not know the people, language, or geography. I only had military training to fall back on: to analyze the situation, to stay alert, to make decisions, and to protect myself. I had my sisters in community, but even they were new to me."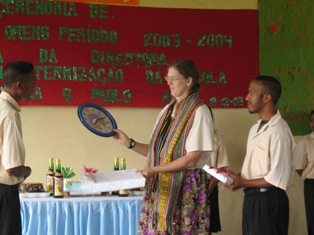 Sister Teresa remembers how ecstatic the Timorese were about their newly yet hard won independence. People rebuilt their lives and businesses. Schools and clinics reopened. Sharing in the rebuilding of a parish high school, Sister Teresa deepened her own understanding of the gift God gives each of us: the capacity to meet our own needs.
Sister Teresa recounts, "My mission vocation was planted in conflict, cultivated in newly found freedom, and flowered in the lives of those with whom I shared mission. Understanding the sacrifice of the Timorese people, their willingness to give all, I recognized how little I had sacrificed to be with them, yet I was reaffirmed in my commitment."
She continues, "
Hospitality is a hallmark of East Timor. Timorese receive others into their homes, lives, and hearts. More remarkably, they receive those who have wronged them in the same way. As refugees and former militia returned home from Indonesia, the Timorese received them back into the community. Participating in this process, I learned the true sense of Reconciliation, which is now the work I have chosen to continue."
East Timor was internationally recognized as an independent state in 2002.
Serving as the director of a catholic high school, Teresa remained in East Timor for four years. She established a peace program to teach communication, dialogue, and negotiation skills, realizing the young people had never experienced peace in their lives. She also helped youth expand their dreams to higher education.
In 2005, Teresa made her Final Vows as a Maryknoll Sister in St. Peter and St. Paul parish in East Timor. She recalls, "Together, the community celebrated our shared vocation as Christians, to sacrifice, to use our gifts to reconcile with others." Subsequently diagnosed with Lupus, she decided not to return to East Timor, because the country lacked adequate medical support, clean water and sanitation.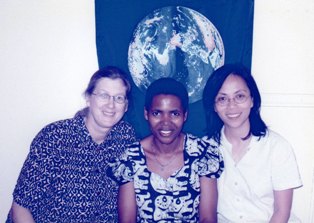 With her two sisters, Sia Temu and Giang Nguyen, Teresa chose to serve in Kenya and create a Peace Team. She explained, "Our work today is to create space for people of diverse backgrounds to talk with each other, to understand one another, and to seek solutions together, rather than to act against one another. We encourage people to look within themselves for leadership and not to project so much onto their elected officials who have historically used the people for their own benefit."
Sister Teresa Hougnon says,
"My experiences at West Point and in the Army made me who I am today. I am one who can stand in the midst of a conflict, study it, and help seek solutions. I am one who believes we all play a part in leadership, and unless the voice of each one is heard, we will live on in conflict, hurting one another. God has been a constant presence and guiding force in my life. God is ever present, and He has been with me in all my experiences and in all my choices."
She quotes a Jesuit priest, played by Jeremy Irons in the movie The Mission, to share her philosophy, "If might is right, then love has no place in the world. It may be so. It may be so. But I don't have the strength to live in a world like that." In the seemingly opposed yet deceptively similar callings of the armed and religious services, Sister Teresa found her peace most meaningful against the milieu of conflict.
If you would like to share your story or that of another veteran women, please contact me.