This is the ninth installment in the weekly Honored Role Series.
Beth Carpenter was never a "typical girl". As a child growing up in Massachusetts, she loved making paper airplanes and building structures from kitchen utensils. She also questioned her parents and teachers about the physics of bridges, the earth's orbit around the sun, and the origination of rainbows. Today, she pays her passion forward and helps students learn and understand the physical universe and Newton's Laws of Motion.
Beth chose West Point after watching the television premier "Women at West Point", a fictionalized drama about the first women to enter the Military Academy in the summer of 1976 and the reactions they faced. Today she explains, "The challenge, commitment, determination and service to country all sounded good to me. I loved the idea of serving in the Army, so what better place to start on that path?"
Her high school guidance counselor inadvertently motivated Beth further when he told her she did not have the right stuff for West Point. His comments challenged her toward success. "I started for different reasons then I finished. Setting high standards and clear expectations, doing your best regardless of importance or triviality are universally applicable in the Army and in the classroom. " Beth recalled. At West Point, Beth learned she could simultaneously build bridges and lead soldiers by becoming an officer and serving in the Army.
Originally Beth wanted to become a helicopter pilot with an assignment in Hawaii. Because Beth majored in math and graduated in the top 10% of her West Point class, she could choose both career fields and duty stations. A physics professor who emphasized her keen ability to understand the technological applications of science that propel society and the marvels of the physical universe suggested she consider becoming an Army engineer. This branch's mission is military and public works services in both peacetime and war. He also noted one could see most everything in the Hawaiian islands in a few months. In Europe, one could explore for years.
Beth selected an initial assignment with the 18th Engineer Brigade in Karlsruhe, Germany, because it was the principal construction unit for the United States Army, Europe and the 7th Army. Beth and her platoon employed their construction and earthmoving skills and equipment to build the infrastructure of the Wildflecken Training Area; they constructed ranges, moved targets for armored tank training, and built roads for all types of vehicles in and around the range.
In one particular area, building the road involved blasting through a rock formation. Beth recalled, "My platoon sergeant and I quickly became the resident experts on demolitions but not before a little circuit miscalculation. When I teach that unit in class now, I still reflect and am glad no one got hurt. And believe me, I'll never mix up a series and parallel wiring again."
Although she enjoyed leading and working with soldiers, operating bull dozers, organizing scrapers and developing drilling schemes for blasting compelled her. Over time, she also became disappointed in the leadership of her unit. She had a few higher-ranking officers who believed one could be a good officer without being good with soldiers. "This is what the Army is all about—soldiers," Beth remarked. She also realized that to do her job to her satisfaction, it had to be all encompassing. Beth was neither willing nor prepared to work around the clock.
Beth resigned her commission and went to work for an engineering firm in defense related worked. Ultimately, Beth found little satisfaction working projects with no end. She eventually realized she enjoyed learning and studying physical science and being around students.
After earning a masters degree in science education from Syracuse University, Beth returned to the classroom to teach environmental science and Advance Placement Physics at Chittenango High School in upstate New York. "My own high school physics teacher, though goofy and disorganized, absolutely loved what he did. If you don't love what you are doing, you are not going to do it well."
While students need to understand and remember facts and laws and solve problems, they also need to understand the practical application of facts and laws. Discovery is a critical aspect of science. "In the classroom, we are so pressed for time that often students are told how to do science instead of figuring it out for themselves." Beth said. As a teacher, Beth coaches a variety of extra curricular activities, including bridge building, engineering contests and Science Olympiad.
Beth returned to West Point in 2002 with her students to compete in the final round of a national bridge design contest. The competition provided middle and high school students with a realistic, engaging introduction to engineering. Chittenango High School finished 5th in a field with more than 54, 000 bridge designs submitted by 19,247 teams.
That same year, the American Society of Chemical Engineers (Syracuse chapter) recognized Beth as "Science Teacher of the Year" for encouraging and motivating her students to go beyond the basic curriculum and learn more through participation in activities outside the classroom.
Most recently, Beth and her students used a parody of pop star Taylor Swift's hit, "You Belong to Me" to compete nationally for a $30,000 classroom technology makeover by the makers of SMART Board interactive technology. Changing the title to "You Belong With Us", Beth and her students created a video and sang about ways technology can positively impact learning by creating a more engaging classroom, improving comprehension, and enabling better test scores.
Desiring to use technology in her classroom, Beth purchased Chittenango's first SMART board, out of pocket, for $100.00 on EBay. The SMART Board interactive whiteboard is a touch-sensitive display that connects to a computer and digital projector. Using a single finger, one can control computer applications, write notes, pull up charts and images, search the Internet, play videos and save work. Classroom notes can be printed directly from the board. Beth handily utilizes this new technology and tool with her class.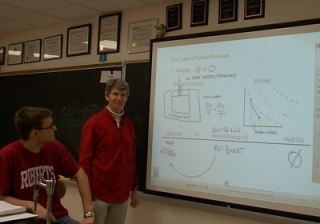 A few weeks ago while shopping, Beth heard a familiar voice, "Hey Ms. Carp," said her former student as he listed the courses he had completed and explained his enrollment in a community college along with his aspirations to join the Air Force. "In high school, this guy worked so hard. He really struggled in Physics. But he passed the New York state regent exams and now is enrolled in college. He is a success story."
Beth credits Army experience with her successful classroom. "One of the most important learning's as an officer is the tenet that if your unit cannot function without you, you have not done your job. If your team functions well without you, you have learned what it takes to be a platoon leader. Every year in school I get a "do over" and try to improve my practice from the previous years. "Content is the easy part of my job. My classes know what I expect to happen whether I am there or not. They know I have plans that will get them to their goals, and they know that I care about them as individuals." Everyday, Beth builds varied and sound bridges.
If you would like to share your story or that of another veteran women, please contact me.