This is the 11th installment in the weekly Honored Role Series.
One of the few constants in the Army is the importance of physical fitness: strength, power, and stamina. William Nash, a military historian, wrote "success and general efficiency of every military establishment is, in a very large degree, dependent upon the physical fitness, endurance, and condition of the individual units of which it is composed."
Lt. Col. Jen Grzbek Buckner realized this early in her career. "Being able to run long and fast earns credibility and respect. It opens doors." She explained. While technology has changed the larger picture of war, physical prowess remains a vital element of each solider's effectiveness. Improvements in combat gear, weaponry, and communication systems support a soldier's ability to fight nearly around the clock. Sustained periods on patrol or in a firefight require soldiers to be alert, energetic and enduring.
As Buckner prepares to relinquish command of the 303rd Military Intelligence Battalion, she reflects upon the benefits of her own physical fitness: she jumpmastered an aircraft in the 82nd Airborne Division, became a rappel master for air assault operations with the 18th Airborne Corps, lead 20 mile marches in combat gear with her Brigade Combat Team partners, and commanded an Army battalion.
Although initally interested in an Ivy-league education, Jen did not want to financially burden her parents with the tuition costs. After meeting the West Point cadet boyfriend of a high school friend from their hometown of Downers Grove, Illinois, Jen decided she would rather be a cadet than date a cadet. With its small class size, structure and discipline, and full scholarship, West Point both appealed to her and challenged her.
Physical fitness a proxy for leadership
Each morning started before the crack of dawn with a run in formation around the Academy's Gothic buildings and 16,000-acre reservation. During Beast Barracks, a cadet's first summer of training, running was the primary gauge measuring success or failure. Jen said, "If one could run, one could lead. It earned you acceptance."
Any cadets who fell out of runs were the object of sharp comments, including "how can you expect to be a soldier, if you can't run,' and 'do you think anyone is going to follow you if you fall out of a run?' " Almost immediately the individual's performance in other areas was discounted.
Running that summer, Jen twisted her ankle and fell out of the run. Placed on "profile", a disabled list of sorts, she could not run for the remainder of summer basic training. Once the torn ligaments healed, Jen vowed never again to fall out of a run.
Jen dove into the pool to stay in shape. Although not a recruited athlete, she made the Army swimteam her first year. "Being around others with an intense work ethic and a drive to succeed pushed me. West Point and the Army reward hard work." Jen said. When not swimming or studying, Jen ran.
Jen earned All-American swimming honors in six events each of her four years at the Academy. Her senior year she became the NCAA II Champion in the 200-meter backstroke. Nearly two decades after her graduation from West Point in 1990, three of her times remain on the Army Women's All-Time Top Ten performance list.
Despite advice from a history professor that the 82nd Airborne Division was too difficult for women, Jen selected the division for her initial assignment. "I couldn't understand how one of the Army's elite units could not be a good assignment. Ignoring that advice was one of the best decisions of my life." Jen said.
Arriving at Ft. Bragg in 1991 to join the 82nd, Lt. Buckner realized she was a novelty and all eyes laser-focused on her.
First Run
During and after her first rucksack march, she never looked back.
Wearing 35 pounds of gear, a Kevlar helmet and combat boots and carrying a rifle, Jen ran her first 20-kilometer "group march". "I just kicked it," she said. "Although my canvas jungle boots were blood-soaked, I finished in the top five of the brigade. I was in and on the team. Gender was no longer a big deal."
Although many jobs in the 82nd were open to soldiers of either sex, women held few. Her ability to run put her on the radar of various commanders familiar with her work ethic, strength and determination. Her battalion commander put her in positions of increasing responsibility to develop tactical competence as a military intelligence officer. She served as a direct-support platoon leader, an operations officer responsible for Airborne and Air Assault missions, and a company commander. "I am in the Army today because of the mentorship and confidence my commanders placed in me," Buckner said.
In addition, Jen successfully earned her jumpmaster and air assault wings, along with a rappel master qualification. Buckner reflected,
"In my early tactical years, I recognized that physical fitness garnered respect and credibility, so I viewed that as a critical part of my professional development as well as that of my soldiers. My female friends at Bragg, all more fit than me, would sooner die than fall out of a run. These friends, including fellow West Point grads Michelle Schmidt ('92), Debbie James ('92), and Candice O'Brien ('98) won the female division of Fort Bragg's 50-mile Perimeter Challenge."
While deployed for more than a year in support of Operation Iraqi Freedom, some classified the 303rd Military Intelligence Battalion as unique because the unit was led by women: Lt. Col. Jen Buckner, the battalion commander, Cmd. Sgt. Maj. Tracey Bellotte and Maj. Michelle Krawczyk, the operations officer. Three of the six company commanders are also women. She explains, "I've hesitated to publicize or draw attention to them as females, since really, they're simply highly capable officers who happen to be women. But it is fairly unique to see such a 'majority' at the tactical level." More importantly, she said, "Command is much more about setting the conditions for soldiers to succeed as leaders; trusting them, empowering them, and developing them."
In November 2009, the 303rd (the Army's most decorated Military Intelligence Battalion) returned from a yearlong deployment in Iraq. As part of the Army's new Battlefield Surveillance Brigade, the Battalion's tactical intelligence collection teams supported Multi-National Divisions Baghdad and South. Buckner said, "Our tactical teams provided Signals Intelligence, Human Intelligence, Sensitive Site Exploitation, and many other technical capabilities, enabling maneuver commanders from the squad to brigade level to achieve their objectives."
She continued, "Commanders on the ground are pragmatic. They want the best soldier for the job. We augmented units at the lowest level. My soldiers worked along side their maneuver counterparts. The fact that we had so many women is invisible to our customers. That is exactly how it should be."
The 303rd also partnered with Iraqi military, national police and border training teams to provide intelligence training and support Iraqi combined operations.
Next Run
Three weeks after redeploying the 303rd battalion from Iraq to Ft. Hood, Texas, Jen and several of her soldiers, including 11 servicewomen, ran the San Antonio Marathon and Half-Marathon.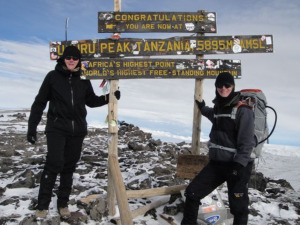 The following week while enjoying a much-deserved period of leave, Jen and friend Lt. Col. Michelle Schmidt climbed to the summit of Mt Kilimanjaro to plan their futures. Reflecting today's intense operational tempo, Michelle redeployed to Iraq within 24 hours of her return.
Although Jen prefers not to focus on gender, she acknowledges her physical determination and accomplishment encourage the younger women and men. "With determination and hard work, they see that anything is really possible."
Lt. Col. Jen Buckner changes command later today, heading Washington D.C. to serve in the Army's new Cyber Command. "I'm looking forward to running on the National Mall again."
If you would like to share your story or that of another veteran women, please contact me.